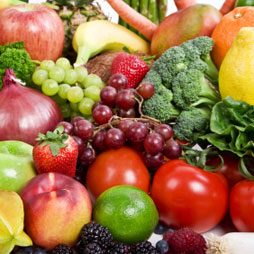 My blood pressure medication was cut in half, I lost 20 pounds, and I am leading an active lifestyle again.
Lorraine, Age 48


August 23, 2012 | Leave a Comment
Are you worried about heading off to college?  There are many stressors associated with freshman year of college such as classes, roommates, being away from home and gaining the "freshman 15." Here are some tips to eat healthy and keep your weight in check. 
Breakfast is the most important meal of the day. Even if you don't have time it's important to grab something as small as a piece of fruit or a breakfast bar on your walk to class. If you have spare time in the morning, a good breakfast should consist of a protein and a complex carbohydrate. Need  ideas for breakfast? Try instant oatmeal mixed with your favorite toppings (peanut butter, apples, raisins), hard-boiled eggs with toast and peanut butter, or yogurt with granola. Studies consistently show that people who eat breakfast have a significantly higher metabolism than those who skip out on this meal. 
A busy schedule can leave you struggling to fit in time for lunch.  I can't stress the importance of planning ahead.  Be sure to pack some snacks until you can make it to the dining hall so you are not ravenous.  Some good snack ideas include hummus and pita, apple with peanut butter, low fat string cheese, and yogurt.  Once you find time to get to the dining hall make sure you scope out your options. Try not to overload your plate, make sure half is filled with fruits and vegetables, and you should include some protein and a carb. Engage in mindful eating where you listen to your body cues of hunger/ satisfaction. With this whether you are eating a wrap, salad or pizza it is important to identify satisfaction  stop eating at this point and save for when you feel hunger again.
If the dining hall is too far or too crowded be sure to have your dorm room stocked with healthy items.  It's good to keep fruit, tuna, nuts, cereal, canned beans, peanut butter, hummus, whole wheat bread, and deli meat in your refrigerator, since these are easy, convenient meals.
Remember, being a freshman doesn't have to be all about studying.  Get up and get active.  Check out the intramural sports your school has to offer.  This is a great opportunity for you to get active and make new friends.   Almost all colleges offer free gym memberships to the on campus fitness centers.  If you are interested, there are also  fitness classes that you can take for credit. Focus on the stress relieving component of exercise!
Not only is healthy eating and exercise important for college students, but so is getting adequate sleep.  I know it is hard to keep up with the proper amount of sleep, but try your best to get between 7 and 8 hours.  This will keep you energized, focused, and your metabolism going.  Let a healthy lifestyle be a new adventure for you just like college is going to be.
Comments
Share
Recent Posts
Categories
Archives
Join Our Mailing List