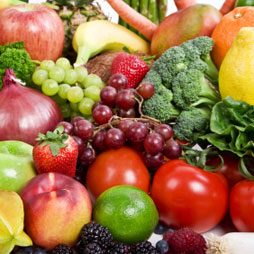 After working with The Berman Group, I am in control of my diabetes. My A1C went from 7.7 to 6.7 and my meds were cut in half.
Jackie, Age 62


March 13, 2012 | Leave a Comment
Do you want to achieve optimal heart health? Keep cancer at bay? Increase your bone strength? Improve your vision and mood? Or even lose weight?
A true super food is packed with disease fighting nutrients that keep you full and energized. Try incorporating one or more of these super foods a day.
Avocados –contain potassium and are rich in monounsaturated fats. They provide cholesterol lowering and cancer protective benefits, along with vitamin E, folate, vitamin B6, and fiber. Try adding a slice to your sandwich at lunch or to top a salad.
Blueberries – are antioxidant rich with nearly 4 grams of fiber per cup and have plenty of vitamin C. They contain acids that may boost brain health and vision. Not only can you eat blueberries on their own, but try adding them to breakfast cereals or oatmeal.
Brazil Nuts – are tree nuts which may cause cancer cells to self-destruct. It's a great source of the anti cancer trace mineral selenium as well as repairing DNA and boosting immunity.
Broccoli – is a cancer blocker and increases activity of enzymes that fight carcinogens. Aim for three servings a week. If you want to change it up, try eating cauliflower or Brussels sprouts.
Butternut Squash – Is a fruit which is high in beta carotene, which the body converts into vitamin A. It helps with vision and bone health. Try making butternut squash into a soup, mashed, or baked.
Edamame – helps to lower bad cholesterol, protects against colon cancer, and strengthens bones. Steam your edamame and add it to your salad or eat it straight out of the pod.
Flaxseed – is a good source of omega-3 fatty acids and lignans. They can block hormone related cancers and are high in fiber and protein. An easy way to incorporate flaxseed to your diet is by adding it to yogurt, cereals, salads, soups, and batters.
Kale– a vegetable which contains high amounts of lutein and zeaxanthin which helps protect against eye related diseases. Not only does kale give you these benefits, but so do collards, spinach, and turnip greens.
Kiwi – is the most nutrient dense fruit of all. In just two kiwis, they have more potassium than a banana, twice the vitamin C and fiber of a small orange, plus folate, magnesium, vitamin E, copper, and lutein. Next time you make a fruit salad or a smoothie, try adding kiwi as one of the main fruits.
Lentils – contain heart protective nutrients include folate and fiber, as well as 9 grams of protein per half cup and iron. They are classified as legumes, or seeds or a plant. Adding lentils to soups, salads or pastas is a great way to get lentils into your diet and increase variety.
Onions – help to lower blood pressure, prevent oxidation of bad cholesterol, and defend against cancer and cataracts. It is best to choose red onions, then yellow, then white for maximum effects.
Quinoa – is a seed (not a grain) and is high in protein and fiber, and contains magnesium, potassium, zinc, vitamin E, riboflavin, copper, and more iron than true grains. I've come to realize that quinoa absorbs the flavor of what you cook it with. For example, mix quinoa with black beans and tomatoes to make a Mexican flavored dish.
Tomatoes – contain lycopene which prevent cancer and offer bone protection. You can increase absorption by adding a touch of fat, such as olive oil. Add fresh tomatoes to your pizza, use tomato sauce on your pasta instead of butter, and enjoy a warm bowl of tomato soup with your sandwich.
Yogurt – is an excellent source of protein and calcium that promotes good digestion and immunity through probiotics. Research links low fat dairy foods to reduced body fat. To increase the protein even more, try a Greek yogurt.
Comments
Share
Recent Posts
Categories
Archives
Join Our Mailing List