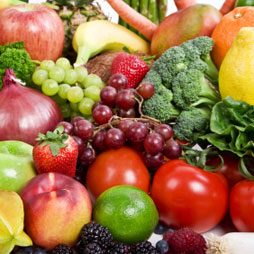 I have learned that what you eat consistently over time is significant. Progress, not perfection, is what matters!
Kathy, Age 32


July 20, 2012 | Leave a Comment
With summer here we're sending the kids off to camp, enjoying weekend barbecue's, and going on our long awaited vacations.  I have some tips and recipes to keep you feeling good throughout all the activities summer has to offer!
Talk to your kids about the importance of staying hydrated over the hot summer.  A lot of times they are running around outside and do not realize that they haven't had a water break.  Remember to pack water bottles and encourage refills. 
When it comes to barbeques, add fruits and vegetables to the grill.
I found a great and simple recipe on betterrecipes.com for a grilled summer tropical salad.
All you need is
½ of a medium pineapple (cored and cut into ½ inch slices), 1 medium mango (cut into ½ inch thick slices), 4 cups of salad
greens, 1 cup cherry tomatoes, 1/3 cup of balsamic vinaigrette dressing and 1/3 cup of macadamia nuts to top it off.
Spray the grill with nonstick cooking spray and preheat it to medium-high heat.  Grill the pineapple and mango for about 3
minutes on each side of until lightly browned. Cut the fruit into bite sized pieces. Toss the remaining ingredients with the fruit in a bowl and drizzle with the dressing.  This salad tastes delicious and will take only minutes to make at your next barbeque.
If you're attending a barbeque at a friend's house and looking to bring something light modify recipes.  For dishes containing mayonnaise, sour cream and cream cheese try substituting these ingredients with a low-fat version or try it with plain Greek yogurt instead.
Self.com has a recipe for a healthy spin on macaroni salad that serves 4.
Ingredients: 3 hardboiled eggs, ½ cup nonfat plain Greek yogurt, ¼ cup reduced-fat mayonnaise, 1 teaspoon mustard, 1 tablespoon white or apple cider vinegar, 2 dashes hot sauce, ½ teaspoon sauce, 2 celery stalks (chopped), ½ small red onion (finely chopped), 1 can (8 oz.) water chestnuts (drained and chopped), ¼ cup plus 2 tablespoons sliced fresh tarragon leaves, and 1 cup cooked whole wheat pasta.
Peels eggs and cut in half; discard 2 yolks.  Chop whites and remaining yolk and place in a bowl.  Add yogurt, mayonnaise, mustard, vinegar, hot sauce and salt; mix well.  Stir in celery, onion, water chestnuts, tarragon and macaroni.  Chill, covered, for 1 hour before serving. 
The trip you've been planning is finally here! Make sure to pack snacks with you for the car ride there.  Instead of bringing an entire bag of chips with you, pre-portion your snacks.  You can put together single servings of nuts, raw veggies, popcorn or pre-washed fruit.  It's also a good idea to bring along a cooler with you.  Fill the cooler with different lean deli meats,low fat cheeses, yogurts, and dips such as hummus or guacamole.
Enjoy!!!!
Comments
Share
Recent Posts
Categories
Archives
Join Our Mailing List