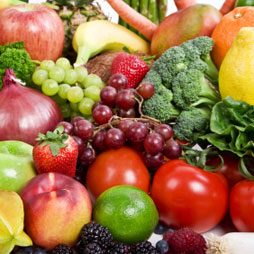 I have finally made peace with food. I have learned to eat intuitively!
Kayla, Age 26


November 27, 2013 | Leave a Comment
With Thanksgiving around the corner, the holiday season is about to start with traditional food and celebrations. From homemade eggnog to sweet potato pie, everyone looks forward to seasonal specialties. The concepts of Intuitive Eating are useful throughout the year including the holidays.
Some guidelines to keep in mind while enjoying holiday foods this season:
Eat when you are hungry. Saving up all of your calories for your holiday meal leads to overeating once dinner hits the table. Before family and friends join, whip up a small snack, such as toasted pumpkin seeds. Boil the seeds in a pot of salted water for 10 minutes; drain, spread on a baking sheet, toss with 1 tsp. olive oil and bake at 400 degrees for 20 minutes or until the seeds are toasty brown and enjoy.
Eat what satisfies you. Incorporate your favorite foods in small but plentiful bites, making your plate colorful with what you enjoy. If you want to bring something new to the table, try a Ricotta and Butternut Squash dip with your choice of bread or veggies on the side. Mix ¾ cup of butternut squash puree into ¾ cup part-skim ricotta. Fry a handful of sage leaves in 2 tablespoons of margarine until it has browned, stir into mixture. Season with salt and a pinch of brown sugar and serve.
Stop when you are full. The common "food coma" after Thanksgiving does not have to take place at the dinner table. Listen to your body's cues and take a relaxing break once you feel satisfied. On a scale of 1 to 10 in fullness, aim for about a 7. After that point, food does not taste as good and will not leave room for dessert.
Appreciate your body as it is now. Don't take the holidays as an "all or nothing" approach if you do over-consume realize no one meal or snack will do you in. Good health is a lifelong process, and does not begin or end at special occasions. A good tip for the holidays is to not weigh or measure your food. Shift your focus to what the holiday is about, which is family and a meal that is truly satisfying. 
Comments
Share
Recent Posts
Categories
Archives
Join Our Mailing List