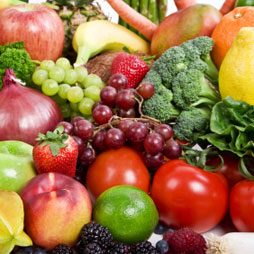 I've lost 30 pounds and regained the energy to play with my grandchildren again!
Susan,67


September 17, 2013 | Leave a Comment
School is here. Mornings may have become more hectic so it's important to plan ahead when it comes to packing lunch.  Keep in mind that many students don't have access to refrigeration so it's important to keep your child's lunch packed safely so food does not spoil.  Pack lunch in an insulated bag with an ice pack.  If you are unable to pack perishable items safely, be sure to pack foods that do not require a refrigerator such as trail mix, granola bars, carrot and celery sticks, whole fruit, dried fruit, applesauce and whole-grain crackers with peanut butter.  Include whole grain breads, low-fat or fat-free dairy options, lean meats and proteins, fruits and vegetables for balanced meals. 
September 17, 2013 | Leave a Comment
It is hard to build up the motivation to exercise first thing in the morning or after a long day of work. Check out these tips to help motivate yourself to get active.
 Watch an inspirational movie– Who doesn't love Rocky? These types of movies have scenes that are guaranteed to give you that extra dose of encouragement.
Read some inspirational quotes– To get the most out of this technique write down your favorite citation and constantly add to the list as you find new ones. When you are in need for some fitness motivation, reference the list and let them fire you up.
Ignore setbacks– One bad habit that decreases motivation is focusing on setbacks.  For example completing 4 perfect workouts during the week and one poor or missed workout and the focus becomes that one day.  Instead of doing this  move on , don't let off days  drag you down. The body bounces back great from a break!
Focus on Success– Celebrate what you have accomplished, by doing this you will develop a more positive mindset and you will find that your fitness drive will be huge.
Create a motivational workout playlist– Music is a powerful motivator. By creating a list of songs that you love it will give you an instant boost of encouragement wherever you are.
Get a workout partner–  If you find it difficult to motivate yourself , find a partner to do it with you. Research shows that exercising with a partner or friend guarantees you will stick with it longer and are less likely to skip a workout.
Choose exercises you enjoy– If you don't enjoy the exercise you are doing you are less likely to stick with it.  So instead of choosing exercises you think you should be doing, choose ones you find fun and when it's time to exercise you will find it comes naturally.
Make time to rest and relax– If you are working out to the point of exhaustion, you will find that you will become physically and mentally drained and this has a negative effect on your body. By finding the time to rest and relax you will become more energized.
Reward yourself– Rewards are excellent incentives. Simply rewarding yourself for reaching certain fitness goals is a great way to double your motivation. Take yourself shopping for that dress you always wanted!
Set yourself realistic fitness goals- If your goals are completely unrealistic it is hard to motivate yourself. So when setting your goals make sure you are confident you can achieve them and give yourself a realistic but challenging timeframe . By creating fitness goals this way, you will be geared up to achieve them,  and find it increasingly motivating  as you achieve one at a time.
July 17, 2013 | Leave a Comment
Summer is a great time of year to travel and go on vacation.  However people often come back upset about their vacation weight gain. Tips to avoid this:
Visit a hotel with a kitchen and stock up on healthful foods. This can help prevent you from eating all of your meals out while you're away. 
If you're room doesn't have a kitchen, be sure to do research. Look up menus before you go out and plan ahead.  The iPhone apps HealthyOut and Restaurant Nutrition may be helpful! Stay out of the all or none mentality!
Bring light weights with you and travel in sneakers.  Get your workout in, in the morning, leaving the rest of your day free to relax. Keep in mind most hotels have a fitness facility and pool that you have complimentary use of, so take advantage of all the hotel has to offer.
Stay mindful and active throughout your vacation and you will not have anything to worry about!
June 6, 2013 | Leave a Comment
Want to regain some energy this summer? Start by eating clean which means eating foods that are free of additives, preservatives, hormones, GMO ingredients, and pesticides. Clean foods will nourish your body and deliver optimal health.
Tips for Clean Eating This Summer…
Stay away from package foods, choose whole foods in their natural state.

If a food has its own TV commercial, leave it at the grocery store. Broccoli and apples don't have their own commercials, right?

Eliminate hydrogenated oils from your kitchen and cabinets, they cause inflammation in the body. Stick to coconut, avocado or olive oil for cooking instead of corn or vegetable oils

If you can't pronounce the ingredients on a label, odds are they probably aren't natural, stay away from them.

If you consume packaged food, opt for those with 5 ingredients or less

Of those 5 ingredients, throw out any with artificial sweeteners, preservatives, additives, white sugar or high fructose corn syrup.

HYDRATE!
When you open your mind and your kitchen to clean eating, the possibilities are endless! Let a variety of fruits, vegetables, seeds, nuts, whole grains, and lean protein energize you!
November 21, 2012 | Leave a Comment
Do you want to incorporate more fruits and vegetables to your meals and snacks.
Having pizza tonight? Try topping your pizza whether it's homemade or bought at the pizza parlor with some veggies such as broccoli, green peppers, spinach, fresh tomatoes or mushrooms.
Try mixing up your breakfast smoothie with low fat milk, frozen strawberries and banana.
Make a veggie wrap with roasted vegetables and low fat cheese wrapped in a whole wheat tortilla.
Try crunchy vegetables instead of chips with your favorite dressing to dip
Grill colorful vegetables on a kabob like peppers, tomatoes, and onions
Make chips out of Kale.
Keep cut vegetables available for afternoon snacks, side dishes, lunch box additions or a quick bite before dinner. Some ready to eat favorites include red, green and yellow peppers, broccoli, cauliflower, carrots, celery sticks, cucumber, snap peas and radishes.
Keep fresh fruit out in the open, people are most likely to grab it when it is easily accessible.
Get saucy with fruit. Puree apples, berries, peaches and pears in a blender for a thick sauce on grilled or broiled seafood or poultry, or on pancakes, French toast or waffles.
Make Green Juice : 1 small cucumber, 1 green apple,3celery stalks, 1 lemon with rind, ahandful of kale, a handful of parsley put in juicer and juice!
Do you love omelets? Turn your morning omelet into a hearty one stuffed with squash, broccoli, peppers, tomatoes, onions, and low fat sharp cheddar.
Add some pizzazz to your favorite sandwich with pineapple, apple, pepper, cucumber and tomato.
Wake up to fruit. Make it a habit to add a fruit to your morning breakfast whether it be cereal, yogurt or a waffle.
Top a baked potato with beans, salsa, broccoli, and low fat cheese
Microwave a cup of vegetable soup for a snack or with a sandwich for lunch.
Add grated, shredded or chopped vegetables such as zucchini, spinach, and carrots to lasagna, meatloaf, mashed potatoes, pasta sauce or rice dishes.
Make fruit your dessert: Slice a banana lengthwise and top with low fat frozen yogurt. Sprinkle with a tbsp of chopped nuts.
Stock your freezer with frozen vegetables to steam or stir fry for a quick side dish.
Fruit on the grill: Make kabobs with pineapple and peaches. Grill on low heat until fruit is hot and lightly golden
Dip: Whole wheat pita wedges in hummus, baked tortilla chips in salsa, strawberries or apple slices in low fat yogurt or graham crackers in applesauce.
What other creative ways do you add fruits and vegetables to your day?
November 21, 2012 | Leave a Comment
Can you believe that Thanksgiving time is already here! Thanksgiving for me is not all about the food (but it is something to look forward to :)). During this time of year, families come together which is wonderful but it can also create stress . From this point leading up to New Year's people tend to become anxious about whether they are eating "good or bad food". Being both mindful and in tune with your body can affect how you feel these next couple of months. Here are some tips to help increase mindfulness during Thanksgiving.
1. During your Thanksgiving feast, check in with yourself with regards to hunger and fullness. Start checking in with yourself even before you begin the meal, halfway through and at the end. On a scale from 1-10 with 1 being ravenous and 10 being full. Rate your fullness at the beginning, middle and end of the meal. This will help you become more conscious of the amount of food you consume and help you stop when you are satisfied. When you do not have labels for food and you do not believe there is anything wrong with having the same food later on or the following day you are more likely to stop at satisfied (not stuffed)
2. Allow yourself to have the foods you enjoy and don't forbid. Thanksgiving is a time of enjoyment why restrict yourself of something that you like ? Have a slice of pecan pie if you love it. If you don't love it, skip it!
3. Eat foods that are worth your pallete. By doing this you will not only prevent yourself from over eating but you will foster a satisfying eating experience. When you eat what you like in an inviting environment and derive pleasure from the eating experience(without guilt) less food is needed.
Avoid the perception of "Today is the day to eat everything I do not allow myself daily"….Take some leftovers , enjoy again tomorrow.
4. Let go of guilt- No one meal or dessert is going to make or break you. If you push past satisfied into full or very full do not let guilt throw you off.
Here are some different fun holiday recipes that are delicious:
Roasted Butternut Quinoa Bliss
Prep Time: 45 minutes
Cooking Time: 30 minutes
Yields:6 servings
Ingredients:
Roasted Butternut Quinoa Bliss
1 cup of cooked Red Quinoa
¼ cup dried apricots, chopped
¼ cup dried cranberries
1 cup of watercress
2 Tbsp crushed raw almonds
Dressing
4 Tbsp olive oil
2 Tbsp Fresh orange juice
2 Tbsp Raw Apple Cider Vinegar
3 cloves garlic, minced
½ tsp sea salt
½ tsp fresh ground black pepper
½ tsp turmeric
1 tsp raw honey
Directions:

1. Preheat oven to 400
2. Prick Squash with a fork & roast for 30 minutes until tender.
3. Remove seeds, remove peel and cut into small chunks
4. Cook quinoa while squash is roasting
5. In a small bowl whisk together olive oil, orange juice, vinegar, garlic, salt, pepper and turmeric.
6. Combine squash, quinoa, watercress, almonds, apricots, and cranberries.
7. Mix with dressing.
Garlic Mashed Potatoes
Ingredients:
•10-12 large organic red potatoes
•3-3.5 cups cooked navy beans (two 15-oz cans)
•1/4 cup buttery spread of choice (smart balance or olivo)
•2 tbsp unsweet. almond milk
•4-5 large cloves of garlic
•1 tsp sea salt
•1/4 tsp ground paprika
•Freshly ground black pepper, to taste
•other herbs and seasoning, to taste
Directions:
1. Wash potatoes with a potato scrubber, chop into large chunks, and toss into a large pot. I prefer to leave the skin on, but you can peel if desired.
2. Fill pot with water until potatoes are covered. Cook on medium-high heat for about 30-35 minutes until fork tender. Drain potatoes and place in a large bowl.
3. Drop in garlic cloves into a food processor (running) and process until finely chopped. Add drained and rinsed beans, salt, paprika, and process until mostly smooth.
3. After cooling potatoes for a few minutes, take a potato masher and mash until desired consistency is achieved. Now add your milk and Earth Balance and keep mashing.
4. Add processed bean mixture to potato mixture and mash until smooth. Sprinkle with black pepper, other herbs, and additional sea salt.
July 20, 2012 | Leave a Comment
With summer here we're sending the kids off to camp, enjoying weekend barbecue's, and going on our long awaited vacations.  I have some tips and recipes to keep you feeling good throughout all the activities summer has to offer!
Talk to your kids about the importance of staying hydrated over the hot summer.  A lot of times they are running around outside and do not realize that they haven't had a water break.  Remember to pack water bottles and encourage refills. 
When it comes to barbeques, add fruits and vegetables to the grill.
I found a great and simple recipe on betterrecipes.com for a grilled summer tropical salad.
All you need is
½ of a medium pineapple (cored and cut into ½ inch slices), 1 medium mango (cut into ½ inch thick slices), 4 cups of salad
greens, 1 cup cherry tomatoes, 1/3 cup of balsamic vinaigrette dressing and 1/3 cup of macadamia nuts to top it off.
Spray the grill with nonstick cooking spray and preheat it to medium-high heat.  Grill the pineapple and mango for about 3
minutes on each side of until lightly browned. Cut the fruit into bite sized pieces. Toss the remaining ingredients with the fruit in a bowl and drizzle with the dressing.  This salad tastes delicious and will take only minutes to make at your next barbeque.
If you're attending a barbeque at a friend's house and looking to bring something light modify recipes.  For dishes containing mayonnaise, sour cream and cream cheese try substituting these ingredients with a low-fat version or try it with plain Greek yogurt instead.
Self.com has a recipe for a healthy spin on macaroni salad that serves 4.
Ingredients: 3 hardboiled eggs, ½ cup nonfat plain Greek yogurt, ¼ cup reduced-fat mayonnaise, 1 teaspoon mustard, 1 tablespoon white or apple cider vinegar, 2 dashes hot sauce, ½ teaspoon sauce, 2 celery stalks (chopped), ½ small red onion (finely chopped), 1 can (8 oz.) water chestnuts (drained and chopped), ¼ cup plus 2 tablespoons sliced fresh tarragon leaves, and 1 cup cooked whole wheat pasta.
Peels eggs and cut in half; discard 2 yolks.  Chop whites and remaining yolk and place in a bowl.  Add yogurt, mayonnaise, mustard, vinegar, hot sauce and salt; mix well.  Stir in celery, onion, water chestnuts, tarragon and macaroni.  Chill, covered, for 1 hour before serving. 
The trip you've been planning is finally here! Make sure to pack snacks with you for the car ride there.  Instead of bringing an entire bag of chips with you, pre-portion your snacks.  You can put together single servings of nuts, raw veggies, popcorn or pre-washed fruit.  It's also a good idea to bring along a cooler with you.  Fill the cooler with different lean deli meats,low fat cheeses, yogurts, and dips such as hummus or guacamole.
Enjoy!!!!
July 20, 2012 | Leave a Comment
Do you ever find yourself buying something from the grocery store and find it in the back of your refrigerator or cabinet weeks, days, or even years later without even touching it? Do you then find yourself not knowing what to do with it? Is it still good? Should u throw it out?
I came across this website called www.StillTasty.com. It has been a helpful guide with regards to shelf life for all foods. It will help you decide if you need to "toss it "or "keep it" and the best way to store it. The site also answers the top questions from viewers about foods, as well as tips for freezing and storing certain items.  Popular questions such as" Is it better to store bread in the refrigerator then on a counter top? "Is bottled water still safe to drink after the expiration date?" and more are answered. I learned a lot of new things and ideas.  Also a plus, it is available as an app for your smart phone.
Check it out and let us know what you think.
March 13, 2012 | Leave a Comment
Do you want to achieve optimal heart health? Keep cancer at bay? Increase your bone strength? Improve your vision and mood? Or even lose weight?
A true super food is packed with disease fighting nutrients that keep you full and energized. Try incorporating one or more of these super foods a day.
Avocados –contain potassium and are rich in monounsaturated fats. They provide cholesterol lowering and cancer protective benefits, along with vitamin E, folate, vitamin B6, and fiber. Try adding a slice to your sandwich at lunch or to top a salad.
Blueberries – are antioxidant rich with nearly 4 grams of fiber per cup and have plenty of vitamin C. They contain acids that may boost brain health and vision. Not only can you eat blueberries on their own, but try adding them to breakfast cereals or oatmeal.
Brazil Nuts – are tree nuts which may cause cancer cells to self-destruct. It's a great source of the anti cancer trace mineral selenium as well as repairing DNA and boosting immunity.
Broccoli – is a cancer blocker and increases activity of enzymes that fight carcinogens. Aim for three servings a week. If you want to change it up, try eating cauliflower or Brussels sprouts.
Butternut Squash – Is a fruit which is high in beta carotene, which the body converts into vitamin A. It helps with vision and bone health. Try making butternut squash into a soup, mashed, or baked.
Edamame – helps to lower bad cholesterol, protects against colon cancer, and strengthens bones. Steam your edamame and add it to your salad or eat it straight out of the pod.
Flaxseed – is a good source of omega-3 fatty acids and lignans. They can block hormone related cancers and are high in fiber and protein. An easy way to incorporate flaxseed to your diet is by adding it to yogurt, cereals, salads, soups, and batters.
Kale– a vegetable which contains high amounts of lutein and zeaxanthin which helps protect against eye related diseases. Not only does kale give you these benefits, but so do collards, spinach, and turnip greens.
Kiwi – is the most nutrient dense fruit of all. In just two kiwis, they have more potassium than a banana, twice the vitamin C and fiber of a small orange, plus folate, magnesium, vitamin E, copper, and lutein. Next time you make a fruit salad or a smoothie, try adding kiwi as one of the main fruits.
Lentils – contain heart protective nutrients include folate and fiber, as well as 9 grams of protein per half cup and iron. They are classified as legumes, or seeds or a plant. Adding lentils to soups, salads or pastas is a great way to get lentils into your diet and increase variety.
Onions – help to lower blood pressure, prevent oxidation of bad cholesterol, and defend against cancer and cataracts. It is best to choose red onions, then yellow, then white for maximum effects.
Quinoa – is a seed (not a grain) and is high in protein and fiber, and contains magnesium, potassium, zinc, vitamin E, riboflavin, copper, and more iron than true grains. I've come to realize that quinoa absorbs the flavor of what you cook it with. For example, mix quinoa with black beans and tomatoes to make a Mexican flavored dish.
Tomatoes – contain lycopene which prevent cancer and offer bone protection. You can increase absorption by adding a touch of fat, such as olive oil. Add fresh tomatoes to your pizza, use tomato sauce on your pasta instead of butter, and enjoy a warm bowl of tomato soup with your sandwich.
Yogurt – is an excellent source of protein and calcium that promotes good digestion and immunity through probiotics. Research links low fat dairy foods to reduced body fat. To increase the protein even more, try a Greek yogurt.
Share
Recent Posts
Categories
Archives
Join Our Mailing List