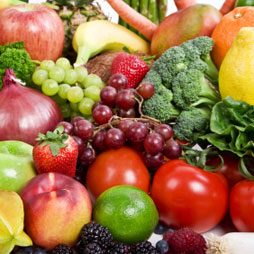 With little changes to my lifestyle, in just a few months my triglycerides went from 354 to 134 and I dropped 15 pounds!
Tony, Age 54


September 17, 2013 | Leave a Comment
Fall is rapidly approaching and with this season comes all the delicious fall veggies!  Try this recipe for Roasted Fall Vegetables with Lentils…
Ingredients:
•1/2 pound carrots, halved lengthwise
•1 red onion, cut into 1-inch wedges
•1 small acorn squash, halved, seeds removed, cut into 1/2-inch slices…
•5 tablespoons extra-virgin olive oil
•Coarse salt and freshly ground pepper
•1/2 cup dried French green lentils, rinsed
•1 shallot, halved
•4 teaspoons apple cider vinegar
•1 teaspoon Dijon mustard
•1 stalk celery, thinly sliced, plus leaves
Directions:
Heat oven to 425 degrees. On two baking sheets, arrange carrots, onion, and squash; drizzle with 2 tablespoons oil, and season with salt and pepper. Roast, turning once, until caramelized and tender, about 30 minutes.
Place lentils and shallot in a medium saucepan and cover with water by two inches. Bring to a boil, then simmer, covered, until lentils are tender, about 20 minutes. Drain; discard shallot. Season with salt and pepper.
Combine vinegar and mustard. Pour remaining 3 tablespoons oil in a slow steady stream, whisking constantly. Toss lentils and celery with vinaigrette and season with salt and pepper. Spoon over roasted vegetables. Garnish with celery leaves.
July 17, 2013 | Leave a Comment
Grilling in the summer time can be an easy healthy method of cooking. Most people associate barbecues with meats sometimes veggies try grilling  fruit!
Here are some fruit grilling tips to try with your family:
Lightly brush fruit with olive or avocado oil to prevent sticking to grill
Cut fruit uniformly so all sides cook at the same rate
Be careful with soft fruits as they heat up more fast, requiring less cook time.
For added favor, brush them with a little sugar and cinnamon for dessert
Happy Grilling!!
Try  this dessert recipe for grilled peaches:
Makes 8 to 16 Servings
Per serving (2 peach halves plus 2 tablespoons yogurt mixture
Ingredients
8 peaches, 2-2/3 inches in diameter
8 ounces plain non-fat yogurt
2 teaspoons honey
¼ teaspoon cinnamon
Preparation
Preheat grill or grill pan.
Combine yogurt, honey and cinnamon in a bowl; stir      well. Refrigerate until ready to use.
Cut peaches in half and remove pits.
Place peaches cut side down on grill.
Grill peaches about five minutes (until marks appear      and peaches begin to caramelize). Remove from grill, and cool slightly.
Dip in yogurt mixture.
July 17, 2013 | Leave a Comment
What's all the hype about greek yogurt these days? Greek yogurt has twice the amount of protein as regular light yogurt and packed with probiotics which are great for digestive health. Yogurt and granola has been a staple breakfast food for years, but here are some recipes using greek yogurt that are delicious and out of the ordinary.
Greek Yogurt Pancakes
Yield: Five 4-inch pancakes
Prep Time: 10 min Cook Time :5 Min
Ingredients:
One 5.3-ounce container nonfat Greek Yogurt (any flavor- see *Tips)
1 large egg (or 2 large egg whites)
1/2 cup Gold Medal® All-Purpose Flour
1 teaspoon baking soda
1/2 cup fresh blueberries (or 1/2 large banana)
Directions:
1. Mix yogurt and egg in a medium bowl until blended and smooth. Add flour and baking soda and stir until the dry ingredients are mixed in. The batter will be thick.
2. Preheat a griddle or large pan to medium heat. Spray with nonstick spray. Use an ice cream scoop or 1/4 to 1/3 cup measuring cup to scoop the batter into the pan. Spread each of the batter scoops into an even circle. Dot blueberries or bananas on top of each pancake. Cook for about 3 minutes or until golden brown, then flip and cook the other side for about 2 minutes, until it is golden brown too. Repeat with the remaining batter. Serve with additional fruit and/or syrup.
Tips:
*For blueberry pancakes, use blueberry Greek yogurt and fresh blueberries.
*For banana pancakes, use vanilla or vanilla-honey yogurt and fresh banana.
Skinny Greek Yogurt Chicken
Ingredients:
4 boneless/skinless chicken breasts
1 cup plain greek yogurt (I used Oikos)
1/2 cup parmesan cheese – grated
1 teaspoon garlic powder
1 1/2 teaspoon seasoned salt
1/2 teaspoon pepper
Directions:
1) Preheat oven to 375 degrees.
2) Combine greek yogurt, parmesan cheese, garlic powder, seasoned salt, and pepper in a bowl.
3) Line baking sheet with foil and spray lightly with cooking spray.
4) Coat each chicken breast in greek yogurt mixture and place on foiled baking sheet.
5) Bake for 45 minutes.
 Pasta with Zucchini, Tomatoes and Creamy Lemon-Yogurt Sauce
Serves 4
8 ounces whole wheat linguine (or your pasta of choice)
1/2 cup nonfat plain Greek yogurt
1/4 cup grated Parmesan cheese
1 teaspoon grated lemon zest
1/4 teaspoon salt
1/4 teaspoon ground black pepper
1 tablespoon olive oil
3 medium (8-ounce) zucchini, cut into thin strips (3 inches long and 3/4 inch wide, like a big stick of gum)
2 garlic cloves, thinly sliced
1/2 pint grape or cherry tomatoes, halved lengthwise
Bring a large pot of water to a boil. Add the pasta, and cook about 9 minutes, or according to the package directions. Remove 1/4 cup of the cooking water, and set it aside. Drain the pasta. Set aside.
Meanwhile, in a large bowl, stir together the yogurt, Parmesan, lemon zest, and salt and pepper. Set aside.
In a large skillet, heat the olive oil over medium-high heat. Add the zucchini, and cook just until wilted, flipping them over occasionally with a spatula. (The zucchini will be soft and somewhat see-through.)
Use a spoon or spatula to push the zucchini aside so a space on the bottom of the pan is clear. Add the garlic, and cook for 15 to 30 seconds, until golden but not really brown.
Mix the garlic into the zucchini.
Stir in the tomatoes and cook until softened, about 2 minutes.
Transfer the zucchini mixture to the yogurt mixture, and stir to combine. Add the drained linguine, and toss gently to combine. Add the reserved pasta cooking water a tablespoon at a time, if necessary, to thin it. Divide among four bowls and serve.
November 21, 2012 | Leave a Comment
Can you believe that Thanksgiving time is already here! Thanksgiving for me is not all about the food (but it is something to look forward to :)). During this time of year, families come together which is wonderful but it can also create stress . From this point leading up to New Year's people tend to become anxious about whether they are eating "good or bad food". Being both mindful and in tune with your body can affect how you feel these next couple of months. Here are some tips to help increase mindfulness during Thanksgiving.
1. During your Thanksgiving feast, check in with yourself with regards to hunger and fullness. Start checking in with yourself even before you begin the meal, halfway through and at the end. On a scale from 1-10 with 1 being ravenous and 10 being full. Rate your fullness at the beginning, middle and end of the meal. This will help you become more conscious of the amount of food you consume and help you stop when you are satisfied. When you do not have labels for food and you do not believe there is anything wrong with having the same food later on or the following day you are more likely to stop at satisfied (not stuffed)
2. Allow yourself to have the foods you enjoy and don't forbid. Thanksgiving is a time of enjoyment why restrict yourself of something that you like ? Have a slice of pecan pie if you love it. If you don't love it, skip it!
3. Eat foods that are worth your pallete. By doing this you will not only prevent yourself from over eating but you will foster a satisfying eating experience. When you eat what you like in an inviting environment and derive pleasure from the eating experience(without guilt) less food is needed.
Avoid the perception of "Today is the day to eat everything I do not allow myself daily"….Take some leftovers , enjoy again tomorrow.
4. Let go of guilt- No one meal or dessert is going to make or break you. If you push past satisfied into full or very full do not let guilt throw you off.
Here are some different fun holiday recipes that are delicious:
Roasted Butternut Quinoa Bliss
Prep Time: 45 minutes
Cooking Time: 30 minutes
Yields:6 servings
Ingredients:
Roasted Butternut Quinoa Bliss
1 cup of cooked Red Quinoa
¼ cup dried apricots, chopped
¼ cup dried cranberries
1 cup of watercress
2 Tbsp crushed raw almonds
Dressing
4 Tbsp olive oil
2 Tbsp Fresh orange juice
2 Tbsp Raw Apple Cider Vinegar
3 cloves garlic, minced
½ tsp sea salt
½ tsp fresh ground black pepper
½ tsp turmeric
1 tsp raw honey
Directions:

1. Preheat oven to 400
2. Prick Squash with a fork & roast for 30 minutes until tender.
3. Remove seeds, remove peel and cut into small chunks
4. Cook quinoa while squash is roasting
5. In a small bowl whisk together olive oil, orange juice, vinegar, garlic, salt, pepper and turmeric.
6. Combine squash, quinoa, watercress, almonds, apricots, and cranberries.
7. Mix with dressing.
Garlic Mashed Potatoes
Ingredients:
•10-12 large organic red potatoes
•3-3.5 cups cooked navy beans (two 15-oz cans)
•1/4 cup buttery spread of choice (smart balance or olivo)
•2 tbsp unsweet. almond milk
•4-5 large cloves of garlic
•1 tsp sea salt
•1/4 tsp ground paprika
•Freshly ground black pepper, to taste
•other herbs and seasoning, to taste
Directions:
1. Wash potatoes with a potato scrubber, chop into large chunks, and toss into a large pot. I prefer to leave the skin on, but you can peel if desired.
2. Fill pot with water until potatoes are covered. Cook on medium-high heat for about 30-35 minutes until fork tender. Drain potatoes and place in a large bowl.
3. Drop in garlic cloves into a food processor (running) and process until finely chopped. Add drained and rinsed beans, salt, paprika, and process until mostly smooth.
3. After cooling potatoes for a few minutes, take a potato masher and mash until desired consistency is achieved. Now add your milk and Earth Balance and keep mashing.
4. Add processed bean mixture to potato mixture and mash until smooth. Sprinkle with black pepper, other herbs, and additional sea salt.
August 23, 2012 | Leave a Comment
I'm sure there are days you come home from work and you'd rather opt for takeout than to start cooking.  However, not all meals require the effort and time that you think.  There are plenty of recipes out there for dinners that involve little to no cooking. Or, if you like to plan ahead, try picking one day over the weekend to make a few meals you can freeze and have throughout the week.  Here are some recipes I make when I'm pressed for time. 
Pasta Rosa Verde
Ingredients:
8 ounces whole wheat penne pasta
1 tablespoon olive oil
1 medium onion, thinly sliced
2 garlic cloves, minced
4 to 6 medium tomatoes, seeded and coarsely chopped
1 teaspoon salt
1/2 teaspoon black pepper
1/4 teaspoon crushed red pepper (optional)
3 cups arugula, watercress, and/or spinach, coarsely chopped
1/4 cup toasted pine nuts
2 tablespoons crumbled Gorgonzola or other blue cheese
Directions:
1.  Cook the pasta according to package directions.Drain and keep warm.
2. Heat the olive oil in a large skillet over medium heat. Sauté the onion and garlic until the onion is tender. Stir in the tomatoes, salt, pepper, and red pepper, if using. Cook, stirring, about 2 minutes, until the tomatoes are warm. Mix in the arugula, watercress, or spinach and heat until just wilted.
3. Spoon the pasta into bowls and top with the tomato mixture. Sprinkle with the toasted pine nuts and cheese.
*For added protein  I like to add grilled chicken to this dish.
White Bean
Chili (perfect meal to freeze and have later in the week)
Ingredients:
3/4 pound lean ground
turkey
1/2 cup onion, chopped
1 garlic clove, minced
3 1/4 cups water
1 can (15 ounces) great northern or cannellini beans, rinsed and drained
1 can (4 ounces) diced green chilies
2 teaspoons instant chicken bouillon granules
1 teaspoon ground cumin
1/4 teaspoon black pepper
2 tablespoons flour
Directions:
1.  In a large saucepan, cook turkey, onion, and garlic until turkey is no longer pink.
2. Stir in 3 cups of the water, beans, undrained chilies, bouillon, cumin, and pepper. Bring to a boil; reduce heat and simmer, covered, for 30 minutes.
3.  In a small bowl, stir together the remaining 1/4 cup water and the flour. When chili is ready, add flour mixture and cook for 1 minute more to thicken.
Recipes provided by fitnessmagazine.com
August 23, 2012 | Leave a Comment
I know that summer is coming to an end but it isn't too late to power up that salad. Before you start buying all types of vegetables keep in mind that the best salads are real meals. They contain lean protein, complex carbohydrates and healthy fats.
Start with both small and large greens such as baby spinach, arugula, romaine, or watercress. These not only pack in a ton of nutrients but may inhibit cancer and keep bones strong. But you don't have to stop there; you can add some fresh herbs too such as mint, basil or cilantro, which are packed with phytochemicals.
Add some powerful proteins. Instead of sodium filled deli meats or full fat cheese, aim for 3 oz of canned salmon, skinless chicken or turkey breast, chopped egg whites, low fat cheese, or cubed tofu. Try adding a quarter cup of walnuts or a half cup of lentils, chickpeas or beans to kick up the protein count.
Try adding new flavorful vegetables to your salad. Not saying that the typical carrots, tomatoes and cucumbers are bad, but try spicing it up by adding corn, black beans, asparagus, zucchini,  mushrooms, peppers or baked sweet potatoes  for new and interesting flavors. For even more flavor, try roasting them in olive oil for a smoky flavor.
Anytime you are making brown rice, barley, quinoa or whole wheat couscous or pasta, save the rest for your salad instead of those oil soaked croutons.  If you have that craving for croutons, try toasting up some rye bread to top the salad with.
In regards to dressing, try a heart friendly dressing packed with omega 3's and fat soluble vitamins like A, D and K. Try a balsamic vinegar with olive or walnut oil and swirl in some mustard, ginger and herbs. About two tablespoons is about a meal sized portion. The dressing should lightly coat the salad.
Referenced by Realage.com
Try this homemade salad dressing:
Serves 1 cup
Ingredients
2 head garlic
1/2 cup reduced-sodium chicken broth
1/4 cup wine of cider vinegar
2 tablespoons extra-virgin olive oil
2 teaspoons Dijon mustard
Salt & freshly ground pepper, to taste
 Preparation
Preheat oven to 400°F. Pull off excess papery outside skin from garlic without separating the cloves. Slice 1/2 inch off the top of each head. Wrap individually in aluminum foil. Roast for 40 minutes, or until the garlic is very soft. Unwrap the garlic and cool slightly. Separate the cloves and peel.
Combine garlic cloves, broth, vinegar, oil and mustard in a food processor of blender; blend until smooth. Season with salt and pepper.
 Recipe provided by Eatingwell.com
January 23, 2012 | Leave a Comment
With the Super Bowl around the corner you may be worried about making unhealthy choices. No need to fret you can have your football party without sabotaging your new healthful lifestyle.
Here are some recipes I came across when planning my Super Bowl party. Try these healthy alternatives to my big game favorites!
Guacamole
Ingredients:
3 ripe large avocados (or 4 smaller)
Juice of one lime or lemon
3 tablespoons chopped fresh cilantro
1 large tomato chopped
1/4 chopped white onion (or more if you like onion)
1 Jalapeño pepper, seeded and chopped. (Optional)
Directions:
1. Cut avocados length wise, and scoop out inside with a spoon, removing the pit. Mash avocados in a small bowl, but leave them a little chunky.
2. Stir in rest of ingredients.
3. Serve immediately. If you need to wait before serving, leave one of the avocado pits in the guacamole, and cover tightly.
Serve with baked corn tortilla chips. This guacamole is great to spread on top of grilled chicken, or put into a corn tortilla with grilled chicken, black beans, and a bit of low fat sour cream.
                                                                                                                                 Recipe provided by healthy-diet-mom.com
Boneless Buffalo Wings
non-stick cooking spray
2 tablespoons whole-wheat flour or all-purpose flour
1/4 teaspoon salt-free seasoned pepper blend
1 pound boneless, skinless chicken breasts, all visible fat discarded
1/4 cup fat-free or low-fat buttermilk
1 teaspoon red hot pepper sauce
1 cup crushed cornflake cereal
1/4 cup barbecue sauce
1 tablespoon cider vinegar
1 tablespoon honey
PREPARATION:
Preheat the oven to 350 degrees F. Lightly spray a baking sheet with vegetable oil spray.
In a large airtight plastic bag, stir together the flour and seasoned pepper blend. Cut the chicken into 28 strips. Add to the flour mixture. Seal the bag and shake to coat.
Add the buttermilk and hot pepper sauce. Reseal the bag and shake gently to coat.
Put the cornflake crumbs in a shallow bowl. Add the chicken, turning gently to coat. Arrange the chicken in a single layer on the baking sheet. Lightly spray the chicken with vegetable oil spray.
Bake, uncovered, for about 25 minutes, or until the chicken is no longer pink in the center and the coating is crispy.
 In a medium bowl stir together the barbecue sauce, vinegar, and honey.
Add the chicken to the sauce, stirring gently to coat, or serve the sauce on the side.
                                                                                                                                                 Recipe provided by cdkitchen.com
Homemade Tomato Salsa
4 cups diced tomatoes, (5-6 medium)
3/4 cup finely diced red onion, (about 1 small)
1/4 cup red wine vinegar
1-2 jalapenos, seeded and minced
1/2 cup chopped fresh cilantro
1/2 teaspoon salt
Pinch of cayenne pepper, or more to taste
Preparation
Combine tomatoes, onion, vinegar, jalapeno, cilantro, salt and cayenne in a medium bowl. Refrigerate until ready to serve.
 Recipe provided by eatingwell.com
Other healthier snack options:
Choose a hearty vegetable or turkey chili instead of a taco dip
Vegetable platter with a low fat version of your favorite dressing
Quesadillas and English Muffin Pizzas with low- fat cheese and color it up with some veggies
December 2, 2011 | Leave a Comment
Holidays translate to a time of joy, family, friends and delicious food.  It can be a challenging time of year to make mindful choices but it can be done.   I came across these fun recipes that  offer a healthy twist to some holiday favorites. Enjoy!
Sweet Potato and Lentil Stuffing
1/2 cup wild rice, rinsed
1 cup water
1 large leek, finely chopped
2 garlic cloves, crushed
12 button mushrooms, roughly chopped
1/2 cup brown lentils
1/2 cup red lentils
2 cups vegetable stock
3 medium sweet potatoes, diced
2 teaspoons ground cumin
2 teaspoons ground cilantro (or ground parsley)
4 tablespoons fresh parsley, finely chopped
2 tablespoons olive oil
Preheat oven to 400 degrees F.
In a medium saucepan, add the brown and red lentils and stock and bring to a boil. Reduce heat and simmer for 20-25 minutes, until lentils are cooked through, stirring occasionally. Add sweet potatoes in the last 5 minutes.
In another medium saucepan, add wild rice and 1 cup water and bring to a boil. Reduce heat and simmer 30-35 minutes, until rice is fork tender.
Heat oil in a saucepan over medium heat, and add leeks. Cook for 2-3 minutes until soft. Add garlic, mushrooms, cumin, and ground cilantro. Cook for 1 minute or until fragrant.
In a large bowl, combine rice, lentils, and saucepan mixture. Mix well.
Place in a baking pan and coat with oil spray. Bake at 400 degrees F for 30-40 minutes until lightly browned.
Yield: 6 servings
Per serving: 170 calories, 5 grams fat, 5 grams protein, 26 grams carbohydrate. Calories from fat: 26%
Provided by WebMD.com
 Pear, Mushroom and Pomegranate Stuffing
INGREDIENTS
1 tablespoon olive oil
10 oz cremini mushrooms
2 large celery stalks, chopped
8 large sage leaves
2 tablespoons fresh thyme, chopped
1 demi whole-wheat baguette (about 8 oz), cut into 1-inch cubes
1 large Anjou or Bartlett pear, cored and cubed
1 cup pitted prunes, chopped
1 cup low-sodium chicken broth
1 cup pomegranate juice
PREPARATION
Heat oven to 350°. Heat oil in a large skillet over high heat. Cook mushrooms, celery, sage and thyme, stirring often, until mushrooms and celery soften, 6 to 8 minutes; season with salt and pepper. Transfer to a bowl; add baguette cubes, pear, prunes, broth and juice. Mix well and let rest until bread absorbs liquid. Transfer to an 8″ x 8″ baking dish; cover with foil. Bake 40 minutes, remove foil and bake until stuffing puffs up, about 5 minutes.
135 calories per serving, 2 g fat (0 g saturated), 26 g carbs, 3 g fiber, 5 g protein
Provided by epicurious.com
 Cauliflower "Mashed Potatoes"
Ingredients
1 head cauliflower
1 clove garlic
1 leek, white only, split in 4 pieces
1 tablespoon soft-tub margarine, non hydrogenated
Pepper to taste
Directions
Break cauliflower into small pieces. In a good-sized saucepan, steam cauliflower, garlic and leeks in water until completely tender, about 20 to 30 minutes. While cauliflower is hot, puree until the vegetables resemble mashed potatoes. (Use a food processor, of if you prefer a smoother texture, use a blender. Process only a small portion at a time, holding the blender lid on firmly with a tea towel.) Add a little hot water if vegetables seem dry. Stir in margarine and pepper to taste.
Provided by eatingwell.com
Pumpkin Pie with Golden Raisins
Ingredients:
4 egg whites, lightly beaten
2 cups canned or cooked pumpkin
½ cup honey
1-1/2 cups evaporated skim milk
½ cup golden raisins
1 teaspoon ground cinnamon
1 teaspoon ground ginger
½ teaspoon ground cloves
1 (9-inch) reduced-fat, whole wheat pie shell
Instructions:
Preheat oven to 425 degrees. In a large bowl, thoroughly blend with an electric mixer all the ingredients and pour into the pie shell. Bake for about 20 minutes or until an inserted toothpick comes out clean. This recipe makes eight servings of pie.
Here's the nutritional breakdown for a 1/8 slice of this delicious dessert:
Calories: 270
Fat: 3 grams
Cholesterol: 4 mg
Sodium: 249 mg
Carbohydrates: 53 grams
Protein: 9 grams
This recipe is courtesy of Roniece Weaver and Fabiola Demps Gaines, registered dieticians and authors of "The New Soul Food Cookbook for People with Diabetes.
 Skillet Granola Apple Crisp
 By toasting a bit of prepared granola with butter, we were able to keep this dish light and healthy while still providing a delicious crunchy topping to sweet spiced apples.
Ingredients
3 tablespoons unsalted butter
1 1/2 cups store-bought oat granola, (recommended: Bear Naked Maple Pecan)
2 tablespoons all-purpose flour
1 tablespoon sugar, plus 1/4 cup
5 crisp apples, such as Fuji or Gala (about 2 1/2 pounds), peeled, cored and cut into 1/2-inch pieces
1/2 teaspoon pumpkin pie spice
1 tablespoon fresh lemon juice
1. Preheat the oven to 350 degrees F.
2. Melt the butter in a medium nonreactive and oven safe skillet over medium heat. Add the granola, 1 tablespoon of the flour and 1 tablespoon sugar and toss until the sugar is dissolved and the granola is well-coated. Transfer to a bowl; set aside. (Reserve the skillet.)
3. Pour the apples into the skillet; toss with the pumpkin pie spice, lemon juice and remaining 1/4 cup sugar. Cook, stirring occasionally, until the apples are juicy and slightly softened, 5 to 7 minutes. Stir in the remaining 1 tablespoon flour. Scatter the reserved granola mixture evenly over the top and transfer the skillet to the oven. Bake until the crisp is bubbling and the apples are tender, about 35 to 40 minutes. Serve warm.
Provided by the foodnetwork.com
October 6, 2011 | Leave a Comment
Research has shown that diets rich in fruits and vegetables may reduce the risk of certain cancers, lower cholesterol, aid in the control of diabetes and contribute to lowering the risk of several chronic diseases. Therefore getting your fruits and vegetables in is vital to good health. Choosing an array of colors is necessary to ensure variety and a mixture of nutrients…. go for dark green, yellow, orange  red, blue, white and purple.
What is a serving size? For an adult a serving size is 1 cup of a raw vegetable, 1 small to  medium sized fruit, 4 ounces of 100%  fruit or vegetable juice,1/4 cup dried fruit,1/2 cup fresh or frozen vegetables cooked. For children under the age of ten portions are considered half that of an adult. For babies and toddlers the portion size is 1 tablespoon per food per year of child.
Select  different colors throughout the day…..
Green (decreased risk of certain cancers, promote strong bones and teeth,maintain vision health): broccoli, kiwi, avocado, leafy greens, green peppers, zucchini, artichokes.
Yellow/ Orange (heart health, boost immune system, vision health, decrease risk of certain cancers): sweet potatoes, papaya, carrots, pumpkin, mango, apricot.
Blue/ Purple( promote healthy urinary tract, reduce risk of certain cancers, improve mental clarity , promote healthful aging) :  figs, blackberries, plums, purple cabbage, eggplant, purple potatoes, blueberries.
White ( heart health, decrease risk of certain cancers): white nectarines, white peaches, cauliflower, garlic, onions, turnips.
Red ( memory function, heart health, decrease risk of certain cancers, urinary tract health) : beets , rhubarb, tomatoes, pomegranates, cranberries.
So you ask how do I increase my family's consumption? First make fruits and vegetables easily accessible  for all to grab. Place washed fruit in bowls on tables, veggies in refrigerator. Present vegetables in different ways with varying textures. Raw veggies dipped in hummus or light dressing, sautéed, grilled, roasted and broiled versions. Add vegetables to sauces, stews, soups, casseroles, omelets, quesadillas, and pizza. Add fruit to yogurt, cereal, cottage cheese, pancakes, oatmeal. Serve 1-2 veggies with your dinner meal. Continue to expose children to veggies they may have rejected, it can take several attempts and a variation of cooking styles. Don't give up!
Green Beans with Chili Garlic Sauce
Recipe courtesy of Harvard University Dining Services
Serves 4
¾ pound green beans, trimmed
2 teaspoons olive oil
¼ small red onion, thinly sliced (about ½ cup)
½ medium red bell pepper, thinly sliced (about ½ cup)
¼ pound shitake mushrooms, sliced
1 clove garlic, minced
½ teaspoon red chili garlic sauce
Bring a large pot of water to a boil over high heat.
Add the green beans to the water. Cook the beans for about 4 minutes, or until they are bright green and still slightly crisp. Meanwhile, prepare a large bowl of ice water.
Drain the green beans in colander and quickly place them in the ice water to stop the cooking process. Drain the beans again in a colander before proceeding to the next step.
Heat the olive oil in a large skillet over high heat. Add the onion, pepper, and mushrooms, and cook for about 3 minutes, stirring constantly, or until the vegetables begin to brown slightly.
Add the green beans, garlic, salt, and pepper to the skillet. Cook for 30 seconds, or until the garlic is fragrant.
Add the red chili garlic sauce to the skillet and stir to coat the vegetables well. Remove from heat and serve.
Nutritional information per serving:
Calories: 80⁄ Protein: 3 g⁄ Carbohydrate: 15 g⁄ Fiber: 4 g⁄ Sodium: 10 mg
Saturated fat: 0 g⁄ Polyunsaturated fat: 0 g⁄ Monounsaturated fat: 2 g
Trans fat: 0 g⁄ Cholesterol: 0 mg
July 28, 2011 | Leave a Comment
Why should you choose foods high in omega 3-fatty acids?
A growing amount of research indicates that omega 3 fatty acids play a key role in maintaining clarity of the brain as well as offering some protection from some cancers. In addition it has been suggested that omega 3 fatty acids may reduce the risk of cardiovascular heart disease, decrease triglycerides, increase high density lipoproteins (HDL) and may lead to a decreased rate of vascular complications in diabetes. Foods rich in omega-3 fatty acids are good for the heart, boost your mood and increase mental clarity. The fatty acids specifically EPA and DHA are found in fish oil and fatty fish such as tuna and salmon. Albacore tuna is higher in omega 3 than chunk light but chunk light provides a good amount of omega 3 and is generally lower in mercury. If you choose albacore do not exceed 6oz per week. It is recommended to eat up to 12 oz a week of a variety of fish and shellfish that are lower in mercury. Four fish commonly consumed that are low in mercury are shrimp, canned light tuna, salmon and catfish. 
What are the best sources of dietary omega- 3 fatty acids?
Cold water fatty fish such as salmon and tuna
Wild game
Walnuts
Flaxseeds
Wheat germ
Vegetable oils- canola oil
Green leafy vegetables
Soybeans
Mango
Quick omega-3 Granola
Got this recipe on epicurious.com
 Makes about 6 cups
4 tablespoons walnut oil, divided
3/4 cup (packed) dark brown sugar
1/4 cup egg whites
1/2 teaspoon (scant) coarse kosher salt
3 cups organic old-fashioned oats
1 cup walnut halves, broken in half
1/2 cup flaxseed meal*
1 cup pitted dates, coarsely chopped or torn into pieces
1/4 cup honey
Preparation:
Preheat oven to 350°F. Brush heavy large rimmed baking sheet with 2 tablespoons oil. Whisk 2 tablespoons oil, sugar, egg whites, and salt in large bowl. Add oats, walnuts, and flaxseed; toss well. Spread mixture evenly on prepared sheet. Bake 15 minutes. Using metal spatula, stir granola. Bake 15 minutes longer. Stir again. Sprinkle dates over; drizzle with honey. Bake until golden brown, about 10 minutes longer. Stir to loosen. Transfer to clean baking sheet to cool completely. DO AHEAD: Can be made 1 week ahead. Keep chilled in airtight container.  
Share
Recent Posts
Categories
Archives
Join Our Mailing List