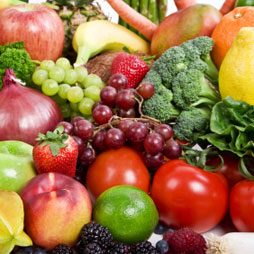 I have finally made peace with food. I have learned to eat intuitively!
Kayla, Age 26


October 3, 2011 | Leave a Comment
Most work days are  much longer than 8 hours, many  people are working additional hours at home on their laptops blackberries etc. With hectic schedules how do you  ensure that you do not skip meals, make poor decisions, over eat and lack the energy needed to keep up.
1. Make a solid grocery list Plan your meals and snacks for the week shop over the  weekend at your leisure on a full stomach.  Avoid the center aisles of the store which contain processed foods and work the perimeter of the store which has produce, low fat dairy and lean meat/poultry.
2.Cook on Sunday Roast a chicken, whip together a turkey meat sauce, make a big stew or pot of chili – grill or steam some veggies.  Wash and prep your salad for the week, place in zip lock bags. This prep will ensure you are all set  to pack  a daily cooler bag for work.
3.Recreate your leftovers  Use left over chicken or other protein in  the lunches you pack . Toss protein  in a whole wheat pita with lettuce, tomato, your favorite seasonings and a slice of avocado. Place it  in a tortilla add some salsa – you have a yummy burrito. Toss it into a salad along with grilled or roasted veggies. Have fun recreating meals, the possibilities are endless.
4. Pack Your snacks Measure nuts,dried fruit, whole wheat crackers, baked chips,sliced veggies, low fat cheese and yogurt.
5. Be Aware of beverage calories The average American consumes 400 calories a day in liquid form! This includes sports drinks,energy drinks,flavored ice teas, sodas and juice. Water is best, jazz it up with a lemon.
6. Don't go shopping for the latest "popular"diet With all the new fad diets circulating around it does get confusing at times. Ask yourself Is it healthy?Does it involve whole foods?Will it fit into your lifestyle? Is it too restrictive?
7. Avoid going longer than 4 hrs without eating, honor your hunger. Too many hours without eating will lead to extreme hunger and over eating is typically the end result.
June 6, 2011 | Leave a Comment
Why does hunger get such a bad rap these days? Look around at all the advertisements for aides to curb your appetite. Isn't it a normal physiological occurrence? Having a sense of hunger is an alert that your body needs a recharge. In order to complete all the tasks you engage in throughout the day you need to refuel the body. The problem arises when you have forgotten what true hunger is and are eating for reasons other than replenishment.
Therefore ask yourself:
Am I truly hungry? (Rate how hungry you are)
Look at the clock and note when the last time you ate and if it was a complete meal or just a snack.
Identify whether you are eating for reasons other than hunger?
While eating, rate how satisfied you are.
Trust your body. It will guide you.
Share
Recent Posts
Categories
Archives
Join Our Mailing List