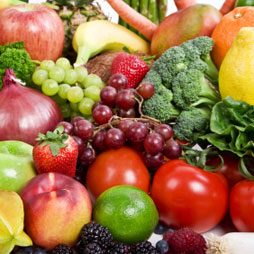 With little changes to my lifestyle, in just a few months my triglycerides went from 354 to 134 and I dropped 15 pounds!
Tony, Age 54


October 6, 2011 | Leave a Comment
Research has shown that diets rich in fruits and vegetables may reduce the risk of certain cancers, lower cholesterol, aid in the control of diabetes and contribute to lowering the risk of several chronic diseases. Therefore getting your fruits and vegetables in is vital to good health. Choosing an array of colors is necessary to ensure variety and a mixture of nutrients…. go for dark green, yellow, orange  red, blue, white and purple.
What is a serving size? For an adult a serving size is 1 cup of a raw vegetable, 1 small to  medium sized fruit, 4 ounces of 100%  fruit or vegetable juice,1/4 cup dried fruit,1/2 cup fresh or frozen vegetables cooked. For children under the age of ten portions are considered half that of an adult. For babies and toddlers the portion size is 1 tablespoon per food per year of child.
Select  different colors throughout the day…..
Green (decreased risk of certain cancers, promote strong bones and teeth,maintain vision health): broccoli, kiwi, avocado, leafy greens, green peppers, zucchini, artichokes.
Yellow/ Orange (heart health, boost immune system, vision health, decrease risk of certain cancers): sweet potatoes, papaya, carrots, pumpkin, mango, apricot.
Blue/ Purple( promote healthy urinary tract, reduce risk of certain cancers, improve mental clarity , promote healthful aging) :  figs, blackberries, plums, purple cabbage, eggplant, purple potatoes, blueberries.
White ( heart health, decrease risk of certain cancers): white nectarines, white peaches, cauliflower, garlic, onions, turnips.
Red ( memory function, heart health, decrease risk of certain cancers, urinary tract health) : beets , rhubarb, tomatoes, pomegranates, cranberries.
So you ask how do I increase my family's consumption? First make fruits and vegetables easily accessible  for all to grab. Place washed fruit in bowls on tables, veggies in refrigerator. Present vegetables in different ways with varying textures. Raw veggies dipped in hummus or light dressing, sautéed, grilled, roasted and broiled versions. Add vegetables to sauces, stews, soups, casseroles, omelets, quesadillas, and pizza. Add fruit to yogurt, cereal, cottage cheese, pancakes, oatmeal. Serve 1-2 veggies with your dinner meal. Continue to expose children to veggies they may have rejected, it can take several attempts and a variation of cooking styles. Don't give up!
Green Beans with Chili Garlic Sauce
Recipe courtesy of Harvard University Dining Services
Serves 4
¾ pound green beans, trimmed
2 teaspoons olive oil
¼ small red onion, thinly sliced (about ½ cup)
½ medium red bell pepper, thinly sliced (about ½ cup)
¼ pound shitake mushrooms, sliced
1 clove garlic, minced
½ teaspoon red chili garlic sauce
Bring a large pot of water to a boil over high heat.
Add the green beans to the water. Cook the beans for about 4 minutes, or until they are bright green and still slightly crisp. Meanwhile, prepare a large bowl of ice water.
Drain the green beans in colander and quickly place them in the ice water to stop the cooking process. Drain the beans again in a colander before proceeding to the next step.
Heat the olive oil in a large skillet over high heat. Add the onion, pepper, and mushrooms, and cook for about 3 minutes, stirring constantly, or until the vegetables begin to brown slightly.
Add the green beans, garlic, salt, and pepper to the skillet. Cook for 30 seconds, or until the garlic is fragrant.
Add the red chili garlic sauce to the skillet and stir to coat the vegetables well. Remove from heat and serve.
Nutritional information per serving:
Calories: 80⁄ Protein: 3 g⁄ Carbohydrate: 15 g⁄ Fiber: 4 g⁄ Sodium: 10 mg
Saturated fat: 0 g⁄ Polyunsaturated fat: 0 g⁄ Monounsaturated fat: 2 g
Trans fat: 0 g⁄ Cholesterol: 0 mg
Share
Recent Posts
Categories
Archives
Join Our Mailing List