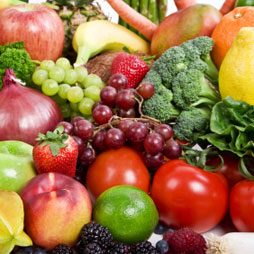 Gastroparesis doesn't have to rule my life any longer! I know what to eat, what to avoid and I feel great!!!
Tara, 28


September 17, 2013 | Leave a Comment
School is here. Mornings may have become more hectic so it's important to plan ahead when it comes to packing lunch.  Keep in mind that many students don't have access to refrigeration so it's important to keep your child's lunch packed safely so food does not spoil.  Pack lunch in an insulated bag with an ice pack.  If you are unable to pack perishable items safely, be sure to pack foods that do not require a refrigerator such as trail mix, granola bars, carrot and celery sticks, whole fruit, dried fruit, applesauce and whole-grain crackers with peanut butter.  Include whole grain breads, low-fat or fat-free dairy options, lean meats and proteins, fruits and vegetables for balanced meals. 
September 17, 2013 | Leave a Comment
It is hard to build up the motivation to exercise first thing in the morning or after a long day of work. Check out these tips to help motivate yourself to get active.
 Watch an inspirational movie– Who doesn't love Rocky? These types of movies have scenes that are guaranteed to give you that extra dose of encouragement.
Read some inspirational quotes– To get the most out of this technique write down your favorite citation and constantly add to the list as you find new ones. When you are in need for some fitness motivation, reference the list and let them fire you up.
Ignore setbacks– One bad habit that decreases motivation is focusing on setbacks.  For example completing 4 perfect workouts during the week and one poor or missed workout and the focus becomes that one day.  Instead of doing this  move on , don't let off days  drag you down. The body bounces back great from a break!
Focus on Success– Celebrate what you have accomplished, by doing this you will develop a more positive mindset and you will find that your fitness drive will be huge.
Create a motivational workout playlist– Music is a powerful motivator. By creating a list of songs that you love it will give you an instant boost of encouragement wherever you are.
Get a workout partner–  If you find it difficult to motivate yourself , find a partner to do it with you. Research shows that exercising with a partner or friend guarantees you will stick with it longer and are less likely to skip a workout.
Choose exercises you enjoy– If you don't enjoy the exercise you are doing you are less likely to stick with it.  So instead of choosing exercises you think you should be doing, choose ones you find fun and when it's time to exercise you will find it comes naturally.
Make time to rest and relax– If you are working out to the point of exhaustion, you will find that you will become physically and mentally drained and this has a negative effect on your body. By finding the time to rest and relax you will become more energized.
Reward yourself– Rewards are excellent incentives. Simply rewarding yourself for reaching certain fitness goals is a great way to double your motivation. Take yourself shopping for that dress you always wanted!
Set yourself realistic fitness goals- If your goals are completely unrealistic it is hard to motivate yourself. So when setting your goals make sure you are confident you can achieve them and give yourself a realistic but challenging timeframe . By creating fitness goals this way, you will be geared up to achieve them,  and find it increasingly motivating  as you achieve one at a time.
September 17, 2013 | Leave a Comment
Fall is rapidly approaching and with this season comes all the delicious fall veggies!  Try this recipe for Roasted Fall Vegetables with Lentils…
Ingredients:
•1/2 pound carrots, halved lengthwise
•1 red onion, cut into 1-inch wedges
•1 small acorn squash, halved, seeds removed, cut into 1/2-inch slices…
•5 tablespoons extra-virgin olive oil
•Coarse salt and freshly ground pepper
•1/2 cup dried French green lentils, rinsed
•1 shallot, halved
•4 teaspoons apple cider vinegar
•1 teaspoon Dijon mustard
•1 stalk celery, thinly sliced, plus leaves
Directions:
Heat oven to 425 degrees. On two baking sheets, arrange carrots, onion, and squash; drizzle with 2 tablespoons oil, and season with salt and pepper. Roast, turning once, until caramelized and tender, about 30 minutes.
Place lentils and shallot in a medium saucepan and cover with water by two inches. Bring to a boil, then simmer, covered, until lentils are tender, about 20 minutes. Drain; discard shallot. Season with salt and pepper.
Combine vinegar and mustard. Pour remaining 3 tablespoons oil in a slow steady stream, whisking constantly. Toss lentils and celery with vinaigrette and season with salt and pepper. Spoon over roasted vegetables. Garnish with celery leaves.
Share
Recent Posts
Categories
Archives
Join Our Mailing List