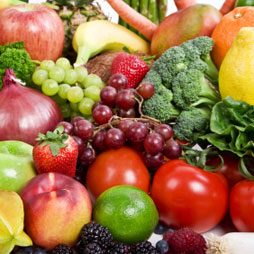 I have finally made peace with food. I have learned to eat intuitively!
Kayla, Age 26


July 17, 2013 | Leave a Comment
Don't resort to quick fix detox programs that can be detrimental to your health. Eliminate some of these common bad habits from your daily life and get on the path to a healthier you:
Artificial sweeteners-Studies suggest that regular consumption of artificial sweeteners like aspartame (found in diet sodas) may actually lead to weight gain. Try a sweetener such as Stevia or coconut crystals or agave
Skipping Meals- Skipping meals is a major cause of weight gain because it slows your metabolism down. At the end of the day, you will end up consuming way more calories than you would have because ultimately ravenous hunger leads to over eating. Eating every 3-4  hours and packing plenty of snacks with you in case you are on the go will solve this problem.
Skimping on Sleep-In our non-stop productive society, sleep often gets shorted. Lack of sleep is a big cause of poor health in our society. Try to eliminate caffeine and alcohol hours before your go to bed, have a regular bed time, avoid large late night meals and ban any electronic devices 2 hours before sleep.
Mindless Snacking- Whether it's at your office desk, in your kitchen with the fridge open, or in front of the TV, chances are you're in the habit of thinking that those random, unplanned mouthfuls don't really count. Be sure to have prepackaged or planned out snacks to ensure you aren't consuming too many calories.
Relying on Supplements- Don't rely on supplements for the nutrients you need, eat whole food such as fruits, vegetables, whole grains and nuts to ensure you are getting all the vitamins and minerals your body needs.
Slacking on exercise- Exercise can be overwhelming at first, but start with something easy and something that interests you. You'll have a lot more success planning movement into your current lifestyle rather than trying to totally reformat your day-to-day.
Eating too much fast food- Take the time to look around for real food, and you'll find lots of cheap ways to eat well on the run. There is no need to settle for those calorie dense add ons at fast food restaurants.
Slurping Soda- By just eliminating soda from your diet, you will not only eliminate calories and sugar, but additives too. If you need something with a bubble, try seltzer with fruit in it.
July 17, 2013 | Leave a Comment
Grilling in the summer time can be an easy healthy method of cooking. Most people associate barbecues with meats sometimes veggies try grilling  fruit!
Here are some fruit grilling tips to try with your family:
Lightly brush fruit with olive or avocado oil to prevent sticking to grill
Cut fruit uniformly so all sides cook at the same rate
Be careful with soft fruits as they heat up more fast, requiring less cook time.
For added favor, brush them with a little sugar and cinnamon for dessert
Happy Grilling!!
Try  this dessert recipe for grilled peaches:
Makes 8 to 16 Servings
Per serving (2 peach halves plus 2 tablespoons yogurt mixture
Ingredients
8 peaches, 2-2/3 inches in diameter
8 ounces plain non-fat yogurt
2 teaspoons honey
¼ teaspoon cinnamon
Preparation
Preheat grill or grill pan.
Combine yogurt, honey and cinnamon in a bowl; stir      well. Refrigerate until ready to use.
Cut peaches in half and remove pits.
Place peaches cut side down on grill.
Grill peaches about five minutes (until marks appear      and peaches begin to caramelize). Remove from grill, and cool slightly.
Dip in yogurt mixture.
July 17, 2013 | Leave a Comment
What's all the hype about greek yogurt these days? Greek yogurt has twice the amount of protein as regular light yogurt and packed with probiotics which are great for digestive health. Yogurt and granola has been a staple breakfast food for years, but here are some recipes using greek yogurt that are delicious and out of the ordinary.
Greek Yogurt Pancakes
Yield: Five 4-inch pancakes
Prep Time: 10 min Cook Time :5 Min
Ingredients:
One 5.3-ounce container nonfat Greek Yogurt (any flavor- see *Tips)
1 large egg (or 2 large egg whites)
1/2 cup Gold Medal® All-Purpose Flour
1 teaspoon baking soda
1/2 cup fresh blueberries (or 1/2 large banana)
Directions:
1. Mix yogurt and egg in a medium bowl until blended and smooth. Add flour and baking soda and stir until the dry ingredients are mixed in. The batter will be thick.
2. Preheat a griddle or large pan to medium heat. Spray with nonstick spray. Use an ice cream scoop or 1/4 to 1/3 cup measuring cup to scoop the batter into the pan. Spread each of the batter scoops into an even circle. Dot blueberries or bananas on top of each pancake. Cook for about 3 minutes or until golden brown, then flip and cook the other side for about 2 minutes, until it is golden brown too. Repeat with the remaining batter. Serve with additional fruit and/or syrup.
Tips:
*For blueberry pancakes, use blueberry Greek yogurt and fresh blueberries.
*For banana pancakes, use vanilla or vanilla-honey yogurt and fresh banana.
Skinny Greek Yogurt Chicken
Ingredients:
4 boneless/skinless chicken breasts
1 cup plain greek yogurt (I used Oikos)
1/2 cup parmesan cheese – grated
1 teaspoon garlic powder
1 1/2 teaspoon seasoned salt
1/2 teaspoon pepper
Directions:
1) Preheat oven to 375 degrees.
2) Combine greek yogurt, parmesan cheese, garlic powder, seasoned salt, and pepper in a bowl.
3) Line baking sheet with foil and spray lightly with cooking spray.
4) Coat each chicken breast in greek yogurt mixture and place on foiled baking sheet.
5) Bake for 45 minutes.
 Pasta with Zucchini, Tomatoes and Creamy Lemon-Yogurt Sauce
Serves 4
8 ounces whole wheat linguine (or your pasta of choice)
1/2 cup nonfat plain Greek yogurt
1/4 cup grated Parmesan cheese
1 teaspoon grated lemon zest
1/4 teaspoon salt
1/4 teaspoon ground black pepper
1 tablespoon olive oil
3 medium (8-ounce) zucchini, cut into thin strips (3 inches long and 3/4 inch wide, like a big stick of gum)
2 garlic cloves, thinly sliced
1/2 pint grape or cherry tomatoes, halved lengthwise
Bring a large pot of water to a boil. Add the pasta, and cook about 9 minutes, or according to the package directions. Remove 1/4 cup of the cooking water, and set it aside. Drain the pasta. Set aside.
Meanwhile, in a large bowl, stir together the yogurt, Parmesan, lemon zest, and salt and pepper. Set aside.
In a large skillet, heat the olive oil over medium-high heat. Add the zucchini, and cook just until wilted, flipping them over occasionally with a spatula. (The zucchini will be soft and somewhat see-through.)
Use a spoon or spatula to push the zucchini aside so a space on the bottom of the pan is clear. Add the garlic, and cook for 15 to 30 seconds, until golden but not really brown.
Mix the garlic into the zucchini.
Stir in the tomatoes and cook until softened, about 2 minutes.
Transfer the zucchini mixture to the yogurt mixture, and stir to combine. Add the drained linguine, and toss gently to combine. Add the reserved pasta cooking water a tablespoon at a time, if necessary, to thin it. Divide among four bowls and serve.
July 17, 2013 | Leave a Comment
Summer is a great time of year to travel and go on vacation.  However people often come back upset about their vacation weight gain. Tips to avoid this:
Visit a hotel with a kitchen and stock up on healthful foods. This can help prevent you from eating all of your meals out while you're away. 
If you're room doesn't have a kitchen, be sure to do research. Look up menus before you go out and plan ahead.  The iPhone apps HealthyOut and Restaurant Nutrition may be helpful! Stay out of the all or none mentality!
Bring light weights with you and travel in sneakers.  Get your workout in, in the morning, leaving the rest of your day free to relax. Keep in mind most hotels have a fitness facility and pool that you have complimentary use of, so take advantage of all the hotel has to offer.
Stay mindful and active throughout your vacation and you will not have anything to worry about!
Share
Recent Posts
Categories
Archives
Join Our Mailing List