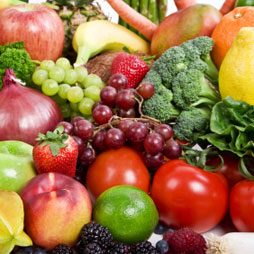 Most of my friends find it hard to juggle school, be in a fraternity and maintain a healthful lifestyle . With the support of The Berman Group, I've been able to lose 60 pounds and keep it off.
John, Age 20


May 29, 2013 | Leave a Comment
Eating healthfully doesn't mean your food has to be bland.  Liven up your meals with these herbs and spices.  Not only will you have delicious tasting meals but each of these has health benefits you won't want to miss out on!
Garlic

Full of antioxidants which help remove bad cells (free radicals) in our bodies
Helps fight heart disease, lower blood pressure, lower cholesterol and improve condition of blood vessels.

Thyme

Fights bacteria, respiratory infections and helps heal wounds.

Basil

A natural anti-inflammatory which improves symptoms of arthritis and bone/muscle pain.
Antioxidant properties when used as an extract or in oil form.  Helps boost immunity, improve aging and appearance of skin, helps heal wounds and protect against cancer.

Parsley

Found to fight cancer
Helps bloating, reduces blood pressure, improves breath and fights bacteria.

Oregano

Has antioxidant properties, fights bacteria/viruses, can relieve an upset stomach.

Dill

Soothes an upset stomach, controls triglycerides, fights bacteria, improves digestive health and optimizes metabolic function.
Contains vitamins and minerals: folic acid, riboflavin, niacin, vitamin A, vitamin C, magnesium, calcium, potassium, iron, zinc and more!

Cayenne Pepper

Source of vitamin C – boosts immunity, contains vitamin B, and minerals such as zinc, copper, potassium and selenium.
Fights bacteria, improves muscle soreness and has been shown to have anti-diabetic properties by reducing blood sugar levels and lowering LDL cholesterol levels.

Cinnamon

High antioxidant power, fights bacteria, works as an anti-inflammatory and improves mood. 
Known for its ability to reduce and stabilize blood sugar levels. 
May 14, 2013 | Leave a Comment
Did you know that May is National Celiac Disease Awareness Month?  Celiac disease is caused by sensitivity to the protein (gluten) in wheat, barley, and rye.  These grains trigger an autoimmune response that damage the intestinal lining and cause nutrition deficiencies.  If left untreated Celiac disease can lead to malnourishment, some cancers, thyroid disease, osteoporosis, infertility and the onset of other autoimmune diseases.
Although there are no medications or surgeries to cure Celiac disease, dietary changes can make living with Celiac much more tolerable.  One may think that a totally gluten free diet is impossible and costly , but now a days it is easier than ever.  Most grocery stores have a section dedicated to gluten free products and the prices are much more reasonable.  If packages are totally gluten free, they will be stated on the label.  But don't worry there are plenty of foods that are naturally gluten free such as fruits, vegetables, meats, fish, eggs and nuts.
Not only is eliminating gluten from your diet essential, it is important to be sure to get in all the vitamins and nutrients in your diet that most gluten filled products have such as iron, calcium, fiber, and all B vitamins.  Gluten free foods with these nutrients include red meat, fish, poultry, quinoa, buckwheat, brown rice, corn, amaranth, lentils, chickpeas, kidney beans, dark leafy greens, asparagus, broccoli, eggs, yogurt, and gluten free products fortified with iron, just to name a few. 
Share this post with others so you can do your part in raising awareness for Celiac disease this month!
May 11, 2013 | Leave a Comment
Mother's day is this weekend and there's no better way to surprise mom than with breakfast in bed!  Whether she likes eggs, French toast or pancakes, we have the best healthy recipes for her…
Mini Spinach Frittatas (Makes 9 servings)
Ingredients:
5 eggs
2 tbsp low fat milk
1 package chopped frozen spinach
5 ounces soft goat cheese
Directions:
Microwave spinach on high for 2 minutes.  Wring with hands to drain excess liquid.
Beat eggs and milk in a small bowl.
Mix in goat cheese.
Add veggies and salt and pepper to taste.
Pour mixture in muffin tins coated with cooking spray.
Bake at 350 degrees for 12-15 minutes or until firm and golden on top.
Strawberry Smothered Flaxseed Pancakes from Today's Dietitian (Makes 1 serving)
Ingredients:
Pancakes –
1 tbsp ground flaxseed
3 tbsp warm water
1 large banana
1 tbsp nut butter
½ tsp cinnamon
Topping –
¼ cup sliced strawberries
¼ cup low fat Greek yogurt
½ tsp honey
Directions:
Mix ground flaxseed in warm water until dissolved.  Place in freezer while preparing other ingredients.
To make the topping: in a blender, blend the strawberries and place in a bowl.  Add Greek yogurt and honey, and mix together.
To make the pancakes, blend the banana, nut butter, and cinnamon.  Then blend in the slightly chilled flaxseed mixture.  Spray or grease a frying pan with oil to prevent sticking and pour the mixture in 1 tbsp at a time to make small rounds.  Let cook over low heat for 2-3 minutes, until slightly browned, then flip and cook the other side.
Pour strawberry mixture over the pancakes and enjoy!
Raspberry Ricotta French Toast from Women's Health Magazine (Makes 1 serving)
Ingredients:
1 cup raspberries
1 teaspoon honey
¼ cup fat free ricotta cheese
1 large egg
¼ teaspoon ground cinnamon
1 slice multigrain bread
1 tablespoon chopped pecans
Directions:
Mash ¼ cup of the raspberries with ½ teaspoon of honey in a small bowl with a fork.  Add the ricotta and stir to combine.  Set aside.
Coat a small nonstick skillet with cooking spray and place it over medium heat.
Beat the egg, milk and cinnamon in a shallow bowl.  Dip the bread in the egg mixture and flip to coat both sides.
Transfer the bread to the skillet and cook for 1-2 minutes per side, or until egg is lightly browned.
Top it with the reserved ricotta mixture and sprinkle on the pecans and ¼ cup of the remaining raspberries.  Drizzle with the remaining ½ teaspoon of honey and garnish with additional cinnamon if desired. 
May 9, 2013 | Leave a Comment
We have some healthy recipe substitutions to share. Let us know what you think!
Baking:
Chia Seeds or Flax Seeds for eggs – 1 tablespoon of chia seeds with 1 cup of water left to sit for 15 minutes or 1 tablespoon ground flax seeds with 3 tablespoons of warm water whisked with a fork and left in the fridge for 5-10 minutes can be used instead of 1 egg while baking
Prunes for butter – Prune puree makes a perfect butter substitute in brownies and dark baked goods while cutting   the fat and calories in half.
Mashed Bananas for fats – A creamy, thickened mashed ripe banana acts the same as avocado in terms of replacing fat in baking recipes. A cup of mashed banana is equal to 1 cup of butter or oil while adding potassium, fiber and Vitamin B6.
 Almond Flour for wheat flour – A gluten free switch with a high dose of protein, omega 3s and a delicious nutty flavor
Black beans for flour –  a quick and easy way to cut out gluten and add some fiber. One cup of black bean puree swaps out 1 cup of flour.
 Applesauce for sugar/oil/butter – provides the appropriate amount of sweetness and consistency without all the extra calories. The applesauce for sugar swap is a 1:1 ratio; though reduce the amount of liquid in the recipe by ¼ cup for every cup of applesauce.
Cooking Methods:
Steaming over boiling -Steaming is Key because it will remove fewer nutrients from vegetables.
 Cinnamon for cream and sugar (in coffee) – Cinnamon can cut up to 70 calories per cup opposed to sugar and cream, as well as helping boost metabolism.
 Alcohol: Seltzer Water with citrus slice instead of soda – Adding grapefruit, orange, lemon, and lime to seltzer water helps cut those lousy excess calories in sugary sodas.
 Seasoning: Pureed Fruit for syrup – Pureed fruit warmed up with a bit of honey adds antioxidants and vitamins for your pancakes or whole wheat waffles opposed to sugar filled classic maple syrup Herbs/Citrus Fruit/Garlic Powder for salt: These great additions to food can pack a powerful flavor punch to your taste buds that don't increase your blood pressure as salt is known to do.
 Homemade Salad Dressing over premade salad dressing – Mixing vinegar or lemon juice to olive oil in a 2:1 ratio with spices such as rosemary, thyme, oregano and pepper will cut out unnecessary sugar, sodium and preservatives.
 Avocado Mash for mayo – Two tablespoons of Avocado is high in Vitamin E with 114 calories and 10.5 grams of healthy mono-saturated fat opposed to the 206 calories and 24 grams of fat in mayonnaise.
 Greek Yogurt for mayo (in tuna/chicken salad) – Alongside a squeeze of lemon and some herbs, you can save some calories and fat while providing a good dose of protein by avoiding the mayonnaise.
 Coconut Milk for cream – DON'T BE TURNED OFF FROM THE WORD "COCONUT" , it doesn't taste like the sweetened shredded kind and is a great change from the cream in soups and stews.
Meals:
Spaghetti Squash for pasta – When roasted and pulled apart with a fork, this is a great low carb, low calorie substitute for pasta. One squash will make between two and three servings.
 Crushed Flax or Fiber Cereal for bread crumbs – Mixing these in a bowl with herbs can make an easy low sodium, higher fiber and more nutritious substitute for traditional breadcrumbs.
 Mashed Cauliflower or Turnip for mashed potatoes – A fraction of the calories, it is nearly impossible to taste a difference with the same creamy consistency.
Snacks:
Popcorn for potato chips – Lower in calories and fat, natural popcorn with personal seasonings as chili powder, cinnamon and Parmesan can still give you a nice crunch and munch opposed to oily, super salty potato chips.
Banana Ice Cream for ice cream – Freeze bananas and puree in a blender without the cream, sugar and milk with result in the same consistency and deliciousness with fewer calories.
 Quinoa for oatmeal – A perfect cooked in milk (skim, almond, hemp, soy) and some cinnamon.
 Make Yourself Trail Mix for prepackaged trail mix – Instead of sugar filled, candy coated chocolate with dried fruit pre-packaged trail mix; add dark chocolate (lower in sugar, high in antioxidants) with unsalted nuts for the go
** Canned Bean Trick** To reduce the amount of sodium in a can of beans by more than half, wash the bean in a strainer, dry the beans with paper towels and then repeat one more time.
Share
Recent Posts
Categories
Archives
Join Our Mailing List