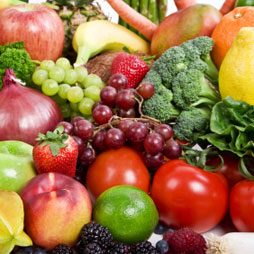 "I was diagnosed with Diabetes and I was scared!" "I went to The Berman Group for help immediately , this was my health, not just my desire to fit into a smaller dress size! I have lost 35 pounds and my blood sugars are within normal range! I did all this through Nutrition and lifestyle, Thank you Berman Group :)
Jessica, 41


January 28, 2013 | Leave a Comment
I love shopping at Whole Foods and  I love their website . They have a ton of recipes and make food shopping very convenient.  When you create an account on their website, you have the ability to make your shopping list right there.  When you find a recipe you like you can add the ingredients needed to your shopping list. I did just that when I found the perfect recipe for Lentil Chili !
The lentil chili recipe makes 8 servings. 
Ingredients include 8 cups low sodium vegetable broth divided, 1 medium yellow onion chopped, 1 large red bell pepper chopped, 5 cloves of garlic finely chopped, 4 teaspoons of salt-free chili powder, 1 (16 ounce) package of brown lentil (about 2 ¼ cups), 2 (15 ounce) cans of no salt added diced tomatoes and ¼ cup chopped cilantro. 
Bring ¾ cup broth to a simmer in a large pot over medium-high heat.  Add onion, bell pepper and garlic and cook about 8 minutes or until onion is translucent and pepper is tender.  Stir in chili powder and cook 1 minute, stirring constantly.  Add lentils, tomatoes and remaining 7 ¼ cups broth. Bring to a boil, reduce heat to medium-low and simmer, partially covered, 30 minutes or until lentils are almost tender. Uncover and cook 10 minutes longer. Stir in cilantro and serve.
This is a recipe that the whole family will love.  On cold winter nights there is nothing better for dinner than a warm bowl of chili. 
January 28, 2013 | Leave a Comment
When you juice, you use more fruits and vegetables than you could consume in one sitting. As a result, a huge amount of vitamins and minerals are being digested. Juicing requires little effort by the digestive system therefore giving your body the ability to put its energy into elimination, recovery and healing the body. Juicing provides new energy, a clearer complexion, clarity of mind and body.
Kale boosts the immune system, promotes bone strength, reduces the risk of many cancers, protects macular degeneration and is beneficial in the treatment of Alzheimer's disease. It also aids in the prevention of colds and flu, helps protect eyes and improves skin elasticity, aids in metabolism
and increases the formation of red blood cells.
Celery   prevents cancer, lowers cholesterol and blood pressure, and reduces symptoms of arthritis and muscular aches and pains.  It helps reduce frequency and severity of migraines and makes an excellent electrolyte replacement after workouts.
Spinach boosts the immune system, helps maintain blood sugar levels, prevents constipation, and helps lower blood pressure.  It also reduces the risk of cataracts and macular degeneration, promotes tooth and bone strength, improves skin elasticity, reduces the risk of osteoporosis and atherosclerosis and promotes a healthy nervous system and brain function.
Ginger alleviates motion sickness, morning sickness, colds, flu, muscle pain and inflammation, heartburn, migraines, menstrual pain and improves metabolism. 
Cucumber improves the look of your skin and decreases skin problems such as eczema, psoriasis, and acne.  It can promote hair growth and weight loss, strengthen connective tissue and alleviate arthritis.
Carrot improves eye health and prevents some cancers.   Carrots can lower the risk of heart disease and stroke, reduce the effects of aging, protect the skin from sun damage, reduce bile and fat in the liver and aid in liver function.
 Beet detoxifies and purifies the blood; is a powerful bowel cleanser and lifts compacted waste from bowel walls, boosts the immune system and red blood cells to aid in oxygen distribution, and helps prevent heart disease and cancer.
Grapefruit is great for detoxing, cleansing and reducing blood pressure and cholesterol; aids in the prevention of many cancers, combats colds and the flu and improves eyesight health. 
Orange prevents and treats colds and the flu, alleviates constipation, and regulates blood pressure. It also helps prevent cancer and heart disease, purifies the blood and aids in teeth and bone strength.
Lemon prevents and treats colds and the flu, aids in detoxifying the body; helps reduce blood pressure, aids in digestion and alleviates constipation. 
January 4, 2013 | Leave a Comment
Yoga transforms lives.  Positive effects can be immediate and profound.  I walked out of my first yoga class a changed woman.  It didn't take me years of practice and study to realize that I was really on to something powerful.  But now, after several years, I can say the benefits over time are far greater than I thought possible.  There are many ways these benefits occur.  Most people experience changes in the physical body such as an increase in flexibility and strength.  Body awareness increases.  Many chronic diseases can be managed through yoga and many life threatening diseases can be prevented.  The meditative aspect of yoga brings even more significant changes.  One of the biggest reasons people start yoga is for stress reduction.  Focus improves, and many people find space opens in their life for spirituality as well.
Many people who start yoga want to improve thecondition of their physical body.  A big benefit that brings people to yoga is that flexibility will improve and muscle tightness will be reduced.  Some people have the notion that to do yoga they already must be very flexible.  Images of someone wrapping their legs around their head are very extreme examples. Most people, myself included, simply do not have the skeletal structure to make those poses possible.  In fact, the typical practitioner comes to yoga to improve on what may be a very low level of flexibility.  In addition, muscular strength will increase. Not every pose involves muscular action, but most of them do.  Yoga will definitely increase muscular definition and tone over time.
Another surprising effect is an increase in body awareness.  This starts by noticing that certain poses don't feel as terrific as other poses, and a body inquiry develops.  You will learn things about your unique anatomy that you never knew, and these things will benefit  youthroughout your life.  You might also begin to notice that certain foods or activities don't feel great in the body. Many positive life changes can come from this kind of awareness.
The effect of yoga on disease has been widely studied and is astounding.  For many chronic diseases, yoga brings relief of some symptoms and lessening of others.  More and more research is uncovering that asthma, arthritis, osteoporosis, multiple sclerosis, fibromyalgia, to name a few can be helped by yoga. A huge benefit is that of reduction of blood pressure and stress reduction.  These combine to reduce the likelihood of many life-threatening diseases like heart disease and cancer.  Both  Doctors Dean Ornish and Mehmet Oz both suggest yoga as part of a healthy lifestyle toward off these diseases.
Because of the meditative aspect of yoga, there can also be powerful effects on the mind.  The first change I noticed after my first yoga class was an incredible, deep sense of calm that lasted for several hours.  I was a typical, stressed mother of three young children and the relaxation I felt was sorely needed and appreciated.  Over time, as I continued with yoga, my children and husband began to notice a difference in me too. I became better able to deal with stress when it came up.  I became more accepting of opportunities to relax when they came up.  I'm not as affected by the ups and downs of life and am much more focused on enjoying the ride. 
Meditation combined with the physical postures has the added benefit of increasing focus.  Like the increase in body awareness, life awareness increases.  You become much more able to recognize and release that which is unimportant in life.  When what is unimportant is shed, that which is important shines all the more brightly, and you are able to focus your attention and resources on those things which really matter.
Perhaps the most significant way in which yoga can change us is in allowing us to open to the spiritual life.  The Yoga Sutras of Patanjali defines yoga as "stopping the fluctuations of the mind".  In the practice of meditation, one begins to see thoughts as ripples on the surface of a lake.  The thoughts can be tiny splashes, or giant angry tidal waves. Either way, they are on the surface.  Meditation allows the calming down of these waves. This allows glimpses of our true, profound spiritual nature and gives insights that are so sorely needed in today's world. 
People from all walks of life, all ages and body types, all levels of fitness and flexibility start yoga for many different reasons.  Whatever the reaon for beginning yoga, it can develop into other reasons.  A transformation in body, mind, or soul will result.  Depending on your level of commitment, the benefits increase.  But you don't have to become a human pretzel or devote a lifetime to the pursuit of yoga.  Any level of yoga practice will result in more positive changes than you ever imagined.  So why wait?  Find a local yoga class and begin your transformation. A journey of a thousand miles begins with a single step.
Written by Heather Casale, a Yoga instructor at The Berman Group for Wellness and Nutrition, LLC
Share
Recent Posts
Categories
Archives
Join Our Mailing List