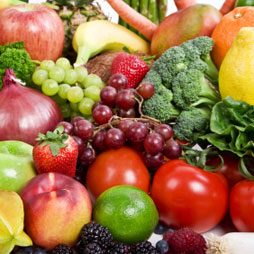 My blood pressure medication was cut in half, I lost 20 pounds, and I am leading an active lifestyle again.
Lorraine, Age 48


November 21, 2012 | Leave a Comment
Do you want to incorporate more fruits and vegetables to your meals and snacks.
Having pizza tonight? Try topping your pizza whether it's homemade or bought at the pizza parlor with some veggies such as broccoli, green peppers, spinach, fresh tomatoes or mushrooms.
Try mixing up your breakfast smoothie with low fat milk, frozen strawberries and banana.
Make a veggie wrap with roasted vegetables and low fat cheese wrapped in a whole wheat tortilla.
Try crunchy vegetables instead of chips with your favorite dressing to dip
Grill colorful vegetables on a kabob like peppers, tomatoes, and onions
Make chips out of Kale.
Keep cut vegetables available for afternoon snacks, side dishes, lunch box additions or a quick bite before dinner. Some ready to eat favorites include red, green and yellow peppers, broccoli, cauliflower, carrots, celery sticks, cucumber, snap peas and radishes.
Keep fresh fruit out in the open, people are most likely to grab it when it is easily accessible.
Get saucy with fruit. Puree apples, berries, peaches and pears in a blender for a thick sauce on grilled or broiled seafood or poultry, or on pancakes, French toast or waffles.
Make Green Juice : 1 small cucumber, 1 green apple,3celery stalks, 1 lemon with rind, ahandful of kale, a handful of parsley put in juicer and juice!
Do you love omelets? Turn your morning omelet into a hearty one stuffed with squash, broccoli, peppers, tomatoes, onions, and low fat sharp cheddar.
Add some pizzazz to your favorite sandwich with pineapple, apple, pepper, cucumber and tomato.
Wake up to fruit. Make it a habit to add a fruit to your morning breakfast whether it be cereal, yogurt or a waffle.
Top a baked potato with beans, salsa, broccoli, and low fat cheese
Microwave a cup of vegetable soup for a snack or with a sandwich for lunch.
Add grated, shredded or chopped vegetables such as zucchini, spinach, and carrots to lasagna, meatloaf, mashed potatoes, pasta sauce or rice dishes.
Make fruit your dessert: Slice a banana lengthwise and top with low fat frozen yogurt. Sprinkle with a tbsp of chopped nuts.
Stock your freezer with frozen vegetables to steam or stir fry for a quick side dish.
Fruit on the grill: Make kabobs with pineapple and peaches. Grill on low heat until fruit is hot and lightly golden
Dip: Whole wheat pita wedges in hummus, baked tortilla chips in salsa, strawberries or apple slices in low fat yogurt or graham crackers in applesauce.
What other creative ways do you add fruits and vegetables to your day?
November 21, 2012 | Leave a Comment
Do you have kids that are very finicky or picky eaters?
Here are some fun snacks to promote eating without the fuss. These snacks are easy enough for  kids to make themselves (with adult supervision).
Parfait:  Layer vanilla yogurt and mandarin oranges or blueberries in a tall glass. Top with a sprinkle of granola
Inside-out sandwich- Spread mustard on a slice of deli turkey. Wrap around a sesame breadstick
Rocky Road: Break a graham cracker into bite size pieces. Add to low- fat chocolate pudding along with a few miniature marshmallows
Mini pizza: Toast an English muffin, drizzle with pizza sauce and sprinkle with low fat mozzarella cheese
Spread mustard on a flour tortilla. Top with a slice of turkey or ham, low fat cheese and lettuce. Then roll up.
Sandwich cut outs: Make a sandwich on whole grain bread. Cut out your favorite shape using a big cookie cutter. Eat the fun shape and the edges too!
Banana Split: Top a banana with low fat vanilla and strawberry yogurt. Sprinkle with your favorite whole grain cereal.
Apple Pie Oatmeal: Make one packet of microwaveable instant oatmeal with low fat milk. . Mix in ¼ cup unsweetened applesauce. Sprinkle with apple pie spice or cinnamon.
Mix together peanut butter and corn flakes in a bowl. Shape into balls and roll into crushed graham crackers.
Fill a waffle cone with cut up fruit and top with low fat vanilla yogurt
Peel a banana and dip it in yogurt. Roll in crushed cereal and freeze.
Spread celery sticks with peanut butter and top with raisins
Make snack kabobs. Put cubes of low fat cheese and grapes on pretzel sticks
Toast a whole grain waffle, top with low fat yogurt and peaches
ideas inspired by eatright.org.
November 21, 2012 | Leave a Comment
Can you believe that Thanksgiving time is already here! Thanksgiving for me is not all about the food (but it is something to look forward to :)). During this time of year, families come together which is wonderful but it can also create stress . From this point leading up to New Year's people tend to become anxious about whether they are eating "good or bad food". Being both mindful and in tune with your body can affect how you feel these next couple of months. Here are some tips to help increase mindfulness during Thanksgiving.
1. During your Thanksgiving feast, check in with yourself with regards to hunger and fullness. Start checking in with yourself even before you begin the meal, halfway through and at the end. On a scale from 1-10 with 1 being ravenous and 10 being full. Rate your fullness at the beginning, middle and end of the meal. This will help you become more conscious of the amount of food you consume and help you stop when you are satisfied. When you do not have labels for food and you do not believe there is anything wrong with having the same food later on or the following day you are more likely to stop at satisfied (not stuffed)
2. Allow yourself to have the foods you enjoy and don't forbid. Thanksgiving is a time of enjoyment why restrict yourself of something that you like ? Have a slice of pecan pie if you love it. If you don't love it, skip it!
3. Eat foods that are worth your pallete. By doing this you will not only prevent yourself from over eating but you will foster a satisfying eating experience. When you eat what you like in an inviting environment and derive pleasure from the eating experience(without guilt) less food is needed.
Avoid the perception of "Today is the day to eat everything I do not allow myself daily"….Take some leftovers , enjoy again tomorrow.
4. Let go of guilt- No one meal or dessert is going to make or break you. If you push past satisfied into full or very full do not let guilt throw you off.
Here are some different fun holiday recipes that are delicious:
Roasted Butternut Quinoa Bliss
Prep Time: 45 minutes
Cooking Time: 30 minutes
Yields:6 servings
Ingredients:
Roasted Butternut Quinoa Bliss
1 cup of cooked Red Quinoa
¼ cup dried apricots, chopped
¼ cup dried cranberries
1 cup of watercress
2 Tbsp crushed raw almonds
Dressing
4 Tbsp olive oil
2 Tbsp Fresh orange juice
2 Tbsp Raw Apple Cider Vinegar
3 cloves garlic, minced
½ tsp sea salt
½ tsp fresh ground black pepper
½ tsp turmeric
1 tsp raw honey
Directions:

1. Preheat oven to 400
2. Prick Squash with a fork & roast for 30 minutes until tender.
3. Remove seeds, remove peel and cut into small chunks
4. Cook quinoa while squash is roasting
5. In a small bowl whisk together olive oil, orange juice, vinegar, garlic, salt, pepper and turmeric.
6. Combine squash, quinoa, watercress, almonds, apricots, and cranberries.
7. Mix with dressing.
Garlic Mashed Potatoes
Ingredients:
•10-12 large organic red potatoes
•3-3.5 cups cooked navy beans (two 15-oz cans)
•1/4 cup buttery spread of choice (smart balance or olivo)
•2 tbsp unsweet. almond milk
•4-5 large cloves of garlic
•1 tsp sea salt
•1/4 tsp ground paprika
•Freshly ground black pepper, to taste
•other herbs and seasoning, to taste
Directions:
1. Wash potatoes with a potato scrubber, chop into large chunks, and toss into a large pot. I prefer to leave the skin on, but you can peel if desired.
2. Fill pot with water until potatoes are covered. Cook on medium-high heat for about 30-35 minutes until fork tender. Drain potatoes and place in a large bowl.
3. Drop in garlic cloves into a food processor (running) and process until finely chopped. Add drained and rinsed beans, salt, paprika, and process until mostly smooth.
3. After cooling potatoes for a few minutes, take a potato masher and mash until desired consistency is achieved. Now add your milk and Earth Balance and keep mashing.
4. Add processed bean mixture to potato mixture and mash until smooth. Sprinkle with black pepper, other herbs, and additional sea salt.
Share
Recent Posts
Categories
Archives
Join Our Mailing List