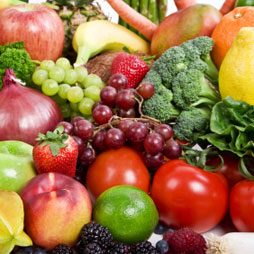 With little changes to my lifestyle, in just a few months my triglycerides went from 354 to 134 and I dropped 15 pounds!
Tony, Age 54


August 23, 2012 | Leave a Comment
Are you worried about heading off to college?  There are many stressors associated with freshman year of college such as classes, roommates, being away from home and gaining the "freshman 15." Here are some tips to eat healthy and keep your weight in check. 
Breakfast is the most important meal of the day. Even if you don't have time it's important to grab something as small as a piece of fruit or a breakfast bar on your walk to class. If you have spare time in the morning, a good breakfast should consist of a protein and a complex carbohydrate. Need  ideas for breakfast? Try instant oatmeal mixed with your favorite toppings (peanut butter, apples, raisins), hard-boiled eggs with toast and peanut butter, or yogurt with granola. Studies consistently show that people who eat breakfast have a significantly higher metabolism than those who skip out on this meal. 
A busy schedule can leave you struggling to fit in time for lunch.  I can't stress the importance of planning ahead.  Be sure to pack some snacks until you can make it to the dining hall so you are not ravenous.  Some good snack ideas include hummus and pita, apple with peanut butter, low fat string cheese, and yogurt.  Once you find time to get to the dining hall make sure you scope out your options. Try not to overload your plate, make sure half is filled with fruits and vegetables, and you should include some protein and a carb. Engage in mindful eating where you listen to your body cues of hunger/ satisfaction. With this whether you are eating a wrap, salad or pizza it is important to identify satisfaction  stop eating at this point and save for when you feel hunger again.
If the dining hall is too far or too crowded be sure to have your dorm room stocked with healthy items.  It's good to keep fruit, tuna, nuts, cereal, canned beans, peanut butter, hummus, whole wheat bread, and deli meat in your refrigerator, since these are easy, convenient meals.
Remember, being a freshman doesn't have to be all about studying.  Get up and get active.  Check out the intramural sports your school has to offer.  This is a great opportunity for you to get active and make new friends.   Almost all colleges offer free gym memberships to the on campus fitness centers.  If you are interested, there are also  fitness classes that you can take for credit. Focus on the stress relieving component of exercise!
Not only is healthy eating and exercise important for college students, but so is getting adequate sleep.  I know it is hard to keep up with the proper amount of sleep, but try your best to get between 7 and 8 hours.  This will keep you energized, focused, and your metabolism going.  Let a healthy lifestyle be a new adventure for you just like college is going to be.
August 23, 2012 | Leave a Comment
I've heard so many people talk about exercise like it's a job.  They do it because they know they have to. What if working out was fun?  Or you were exercising for a cause?  Would you be more motivated to do it? There are all different kinds of races that turn exercising into fun. 
The Color Run is a 5k (3 mile) event. The run is not considered a race, simply a day of movement and colors. People of all different speeds are encouraged. Each kilometer of the event is associated with a different color.  As participants reach each kilometer they are hit with a dust of color. This is a guaranteed fun time with the added benefit of physical activity!  Check out the website for dates, locations and more information www.thecolorrun.com
If you're more of a competitive person, the Spartan Race may be for you.  This is an obstacle race of 3+ miles and 15+ obstacles.  If you love a good competition and being pushed to your limits check out the Spartan Race at www.spartanrace.com
Let's say you've done the Spartan Race and need even more competition and challenge, the Tough Mudder will fulfill your needs.  This is a 10-12 mile obstacle course similar to the Spartan Race.  Not only will this challenge benefit your physical health, but every dollar raised goes toward the Wounded Warrior Project.  If you're up for the challenge, a good time, and to support a great cause sign up for the Tough Mudder at www.toughmudder.com
Maybe you know someone who is suffering with or has suffered from a disease.  There are walks that help raise money for all different diseases and causes.  Each walk and each location is a different length.  No matter how long the walk is it's great to get out there and walk to help

Cystic Fibrosis Foundation holds a national walk called Great Strides. 
American Cancer Society hosts both Relay For Life, Making Strides Against Breast Cancer and several other sporting events.
What helps you to have fun while exercising?
August 23, 2012 | Leave a Comment
I'm sure there are days you come home from work and you'd rather opt for takeout than to start cooking.  However, not all meals require the effort and time that you think.  There are plenty of recipes out there for dinners that involve little to no cooking. Or, if you like to plan ahead, try picking one day over the weekend to make a few meals you can freeze and have throughout the week.  Here are some recipes I make when I'm pressed for time. 
Pasta Rosa Verde
Ingredients:
8 ounces whole wheat penne pasta
1 tablespoon olive oil
1 medium onion, thinly sliced
2 garlic cloves, minced
4 to 6 medium tomatoes, seeded and coarsely chopped
1 teaspoon salt
1/2 teaspoon black pepper
1/4 teaspoon crushed red pepper (optional)
3 cups arugula, watercress, and/or spinach, coarsely chopped
1/4 cup toasted pine nuts
2 tablespoons crumbled Gorgonzola or other blue cheese
Directions:
1.  Cook the pasta according to package directions.Drain and keep warm.
2. Heat the olive oil in a large skillet over medium heat. Sauté the onion and garlic until the onion is tender. Stir in the tomatoes, salt, pepper, and red pepper, if using. Cook, stirring, about 2 minutes, until the tomatoes are warm. Mix in the arugula, watercress, or spinach and heat until just wilted.
3. Spoon the pasta into bowls and top with the tomato mixture. Sprinkle with the toasted pine nuts and cheese.
*For added protein  I like to add grilled chicken to this dish.
White Bean
Chili (perfect meal to freeze and have later in the week)
Ingredients:
3/4 pound lean ground
turkey
1/2 cup onion, chopped
1 garlic clove, minced
3 1/4 cups water
1 can (15 ounces) great northern or cannellini beans, rinsed and drained
1 can (4 ounces) diced green chilies
2 teaspoons instant chicken bouillon granules
1 teaspoon ground cumin
1/4 teaspoon black pepper
2 tablespoons flour
Directions:
1.  In a large saucepan, cook turkey, onion, and garlic until turkey is no longer pink.
2. Stir in 3 cups of the water, beans, undrained chilies, bouillon, cumin, and pepper. Bring to a boil; reduce heat and simmer, covered, for 30 minutes.
3.  In a small bowl, stir together the remaining 1/4 cup water and the flour. When chili is ready, add flour mixture and cook for 1 minute more to thicken.
Recipes provided by fitnessmagazine.com
August 23, 2012 | Leave a Comment
Whether you need more encouragement to get moving or are in need of some guidance to eating healthfully, there are a number of apps available for your smart phones and tablets.
The one that I use most often is MapMyRUN.  It uses the location setting to monitor your run and shows you the distance you've walked or ran.  This app has voice prompts that give you updates on your progress as you're going.  MapMyRUN even gives you the option to post your run on social networking sites allowing for support and even more motivation.   
Nike+ Running app is a fresh new app .  You're able to set up a playlist with your favorite songs to give you that extra boost.  It maps your runs, tracks your progress, and provides motivation to reach your goals.
Another app is Get Running. This app provides you with three enjoyable workouts a week, between 20-30 minutes.  In 9 weeks, you will be running consistently for 30 minutes.  This app logs your achievements as you go, encouraging you to keep succeeding!
If these aren't what you are looking for try this app, called Fooducate. Do you find yourself confused at the grocery store?  This app can take care of that confusion.  You can scan the bar-code on any product and find out all that you need to know about that product.  Fooducate grades your groceries, explains what is inside each product, and offers healthy alternatives.  
With technology today there are so many ways to help motivate and keep you on track.  Try out one of these apps and let me know how they have helped you! 
August 23, 2012 | Leave a Comment
I know that summer is coming to an end but it isn't too late to power up that salad. Before you start buying all types of vegetables keep in mind that the best salads are real meals. They contain lean protein, complex carbohydrates and healthy fats.
Start with both small and large greens such as baby spinach, arugula, romaine, or watercress. These not only pack in a ton of nutrients but may inhibit cancer and keep bones strong. But you don't have to stop there; you can add some fresh herbs too such as mint, basil or cilantro, which are packed with phytochemicals.
Add some powerful proteins. Instead of sodium filled deli meats or full fat cheese, aim for 3 oz of canned salmon, skinless chicken or turkey breast, chopped egg whites, low fat cheese, or cubed tofu. Try adding a quarter cup of walnuts or a half cup of lentils, chickpeas or beans to kick up the protein count.
Try adding new flavorful vegetables to your salad. Not saying that the typical carrots, tomatoes and cucumbers are bad, but try spicing it up by adding corn, black beans, asparagus, zucchini,  mushrooms, peppers or baked sweet potatoes  for new and interesting flavors. For even more flavor, try roasting them in olive oil for a smoky flavor.
Anytime you are making brown rice, barley, quinoa or whole wheat couscous or pasta, save the rest for your salad instead of those oil soaked croutons.  If you have that craving for croutons, try toasting up some rye bread to top the salad with.
In regards to dressing, try a heart friendly dressing packed with omega 3's and fat soluble vitamins like A, D and K. Try a balsamic vinegar with olive or walnut oil and swirl in some mustard, ginger and herbs. About two tablespoons is about a meal sized portion. The dressing should lightly coat the salad.
Referenced by Realage.com
Try this homemade salad dressing:
Serves 1 cup
Ingredients
2 head garlic
1/2 cup reduced-sodium chicken broth
1/4 cup wine of cider vinegar
2 tablespoons extra-virgin olive oil
2 teaspoons Dijon mustard
Salt & freshly ground pepper, to taste
 Preparation
Preheat oven to 400°F. Pull off excess papery outside skin from garlic without separating the cloves. Slice 1/2 inch off the top of each head. Wrap individually in aluminum foil. Roast for 40 minutes, or until the garlic is very soft. Unwrap the garlic and cool slightly. Separate the cloves and peel.
Combine garlic cloves, broth, vinegar, oil and mustard in a food processor of blender; blend until smooth. Season with salt and pepper.
 Recipe provided by Eatingwell.com
Share
Recent Posts
Categories
Archives
Join Our Mailing List