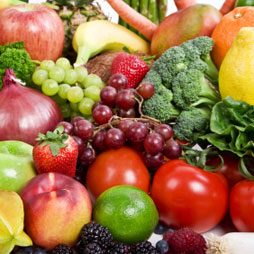 I have finally made peace with food. I have learned to eat intuitively!
Kayla, Age 26


July 20, 2012 | Leave a Comment
With summer here we're sending the kids off to camp, enjoying weekend barbecue's, and going on our long awaited vacations.  I have some tips and recipes to keep you feeling good throughout all the activities summer has to offer!
Talk to your kids about the importance of staying hydrated over the hot summer.  A lot of times they are running around outside and do not realize that they haven't had a water break.  Remember to pack water bottles and encourage refills. 
When it comes to barbeques, add fruits and vegetables to the grill.
I found a great and simple recipe on betterrecipes.com for a grilled summer tropical salad.
All you need is
½ of a medium pineapple (cored and cut into ½ inch slices), 1 medium mango (cut into ½ inch thick slices), 4 cups of salad
greens, 1 cup cherry tomatoes, 1/3 cup of balsamic vinaigrette dressing and 1/3 cup of macadamia nuts to top it off.
Spray the grill with nonstick cooking spray and preheat it to medium-high heat.  Grill the pineapple and mango for about 3
minutes on each side of until lightly browned. Cut the fruit into bite sized pieces. Toss the remaining ingredients with the fruit in a bowl and drizzle with the dressing.  This salad tastes delicious and will take only minutes to make at your next barbeque.
If you're attending a barbeque at a friend's house and looking to bring something light modify recipes.  For dishes containing mayonnaise, sour cream and cream cheese try substituting these ingredients with a low-fat version or try it with plain Greek yogurt instead.
Self.com has a recipe for a healthy spin on macaroni salad that serves 4.
Ingredients: 3 hardboiled eggs, ½ cup nonfat plain Greek yogurt, ¼ cup reduced-fat mayonnaise, 1 teaspoon mustard, 1 tablespoon white or apple cider vinegar, 2 dashes hot sauce, ½ teaspoon sauce, 2 celery stalks (chopped), ½ small red onion (finely chopped), 1 can (8 oz.) water chestnuts (drained and chopped), ¼ cup plus 2 tablespoons sliced fresh tarragon leaves, and 1 cup cooked whole wheat pasta.
Peels eggs and cut in half; discard 2 yolks.  Chop whites and remaining yolk and place in a bowl.  Add yogurt, mayonnaise, mustard, vinegar, hot sauce and salt; mix well.  Stir in celery, onion, water chestnuts, tarragon and macaroni.  Chill, covered, for 1 hour before serving. 
The trip you've been planning is finally here! Make sure to pack snacks with you for the car ride there.  Instead of bringing an entire bag of chips with you, pre-portion your snacks.  You can put together single servings of nuts, raw veggies, popcorn or pre-washed fruit.  It's also a good idea to bring along a cooler with you.  Fill the cooler with different lean deli meats,low fat cheeses, yogurts, and dips such as hummus or guacamole.
Enjoy!!!!
July 20, 2012 | Leave a Comment
Do you ever find yourself buying something from the grocery store and find it in the back of your refrigerator or cabinet weeks, days, or even years later without even touching it? Do you then find yourself not knowing what to do with it? Is it still good? Should u throw it out?
I came across this website called www.StillTasty.com. It has been a helpful guide with regards to shelf life for all foods. It will help you decide if you need to "toss it "or "keep it" and the best way to store it. The site also answers the top questions from viewers about foods, as well as tips for freezing and storing certain items.  Popular questions such as" Is it better to store bread in the refrigerator then on a counter top? "Is bottled water still safe to drink after the expiration date?" and more are answered. I learned a lot of new things and ideas.  Also a plus, it is available as an app for your smart phone.
Check it out and let us know what you think.
July 20, 2012 | Leave a Comment
For many summer time equates to lots of planting and fresh veggies in the garden. With this you may be left with a plethora of tomatoes, eggplant, peppers or squash and you don't know what to do with it all.  I found this article by Kim Kash with Beachbody that offers great ideas on how to utilize that extra produce.
For example, most people produce a lot of tomatoes during the summer time months. You don't have to stick to plain tomato sauce.  Here are some great ideas for using them that won't bore you.
Blender tomato sauce. Fill your blender 3/4 full of cored, quartered tomatoes—should be about a half dozen or so. Throw in a few cloves of garlic, a generous handful of basil leaves, and a small onion or a small bunch of green onions or scallions. Salt and pepper to taste, and blend with a little bit of olive oil, tasting and adding up to 1/2 cup to get a smooth but not oily consistency. When you stir this into fresh, hot pasta, the sauce will warm up just enough.
Roasted tomatoes. Slice tomatoes in half or in big chunks. Arrange on one or more baking sheets. Add big handfuls of basil, cilantro, or spring onions, drizzle with olive oil, and sprinkle with salt and pepper. Roast until tomatoes are wrinkly and soft, and herbs are completely wilted and disintegrating. Put into a bowl, and be sure to scrape all the oil and bits of herb off of the baking pan. Makes a great pasta sauce, bruschetta topping, or chunky topping for chicken, fish, or another cooked vegetable.
Tomato salad. Mix a variety of colors and types of tomatoes, throw in some herbs, and add a simple oil and vinegar dressing and a bit of salt and freshly ground pepper. Just because it's salad doesn't mean it has to have lettuce in it.
When it comes to summer squash, there are a number of different ways to prepare it.
Grilled squash.  Thickly slice squash lengthwise and roast on the grill. 
Summer squash bake.  Slice or roughly chop a combination of summer squashes, enough to fill a baking dish. Add fresh herbs if you have them. Grate a layer of cheddar, jack, or even mozzarella on top, and use your fingers to sift a little bit of the cheese down into the vegetables. Sprinkle whole-grain breadcrumbs on top if you wish. Bake in a 350-degree oven until the vegetables are soft and the cheese is beginning to brown. Cover with foil if the cheese or breadcrumbs are browning too quickly. If the finished dish is a bit watery (some summer squashes are more watery than others when cooked), serve with a slotted spoon.
For an Italian spin on the summer squash bake, add tomato sauce and mozzarella cheese.
Curried summer squash bake. Same as squash bake above, only omit the cheese and add a drained can of chickpeas, maybe some fresh greens, and 1 to 2 tablespoons curry powder to taste, depending on the quantity of squash you're baking.
Grate and freeze. Use later for zucchini fritters, zucchini bread, in frittatas, as a thickener for spaghetti sauce, or a filler in any kind of vegetable bake or casserole.
To make the best use of your basil make pesto! You can use pesto on bruschetta, add it to salads as dressing, use it as a pasta sauce or sandwich spread, or top your grilled or roasted chicken fish and vegetables with it.  And pesto is easy to store.  Just put it in the refrigerator in a tightly closed jar. 
Bell peppers can be eaten with any meal.  Oven roast or grill them and store them in a tightly closed container.  When you're in the mood you can use them in a pasta dish, on sandwiches, or even in an omelet. 
With all the eggplant this summer, instead of making eggplant parmesan try something different like roasting or grilling it.  Here are two recipes you can use roasted eggplant in –
Baba ghanoush.  Slash one or more eggplants in several places and bake on a pan in a 425-degree oven until very soft. This can take an hour or more, depending on the size of the eggplants. Cool, then peel off the skin. Throw the soft interior into a food processor. For each eggplant, add 2 cloves of garlic, 1/4 cup of tahini, 2 tablespoons of olive oil, and the juice from one lemon. Blend just until incorporated, leaving the texture a little rough. Salt to taste. To serve, make a little well on the top of the baba ghanoush and pour some olive oil into the depression. Sprinkle parsley over the top. (Adapted from Vegetarian Cooking for Everyone by Deborah Madison.)
Roasted eggplant salad. Roast eggplants as above, peel and roughly chop. Serve in a large salad bowl with toasted pine nuts or walnuts, lots of parsley, and mint. If you have too many tomatoes, chop and add a few of those. Dress with either light vinaigrette or with a bit of whipped yogurt.
After reading this I'm sure you won't run out of ways to put your veggies to use this summer!
Share
Recent Posts
Categories
Archives
Join Our Mailing List