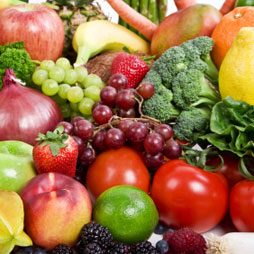 Gastroparesis doesn't have to rule my life any longer! I know what to eat, what to avoid and I feel great!!!
Tara, 28


June 8, 2012 | Leave a Comment
Do you want a snack that is satisfying? I came across a list of bars in FITNESS magazine . If you are looking for a great tasting bar to give you energy and sustain you, try these. 
1. Luna Bar Chocolate Dipped Coconut– This 70% organic bar tastes like a Samoa Girl Scout cookie and contains 1,000 mg of calcium per bar, plus vitamin D!
2. Clif Crunch Chocolate Peanut Butter Granola Bar– This bar has a great crunchy texture, try adding it over Greek Yogurt and fruit for breakfast.
3. Balance Bar Bare Blueberry Acai-This bar contains 15 grams of protein! It is perfect for post workout refueling.
4. Thinkthin Crunch Fruit & Nut Cranberry Apple & Mixed Nuts-This gluten -free bar contains half the sugar and twice the amount of protein as most fruit and nut bars.
5. Corazonas Blueberry Oatmeal Squares-If you like baked goods you should try this one. This bar contains natural plant sterols, and 17 grams of whole grains which both lower cholesterol!
6. Pure Naturals Peanut- Raisin Crunch Bar-If you are in the mood for both a salty and sweet snack this bar is for you!
7. Rise Raspberry- Pomegranate Energy+ Bar– A nice fruity consistency very similar to a  Fig Newton. It is also gluten, dairy, soy and peanut free.
8. Kind Fruit & Nut Delight Mini-This bar has four kinds of nuts in it and will keep you going.
Looking on your own try these tips:
• Check the label to ensure it is not calorically dense choose one with 200 calories or less.
• Look at the protein, fiber and fat content. Choosing a bar with a combo of all three will help keep you more satisfied. In regards to fat content, choose a bar that has minimal saturated fat
(no more than 2 grams per serving).
• Check for sugar- some bars have a very high sugar content. Try to keep under 12 grams.
Keep one with you at work or in your gym bag for a satisfying bite.
Don't see one on the list that you have tried and thought was great? Give us your input!
Share
Recent Posts
Categories
Archives
Join Our Mailing List