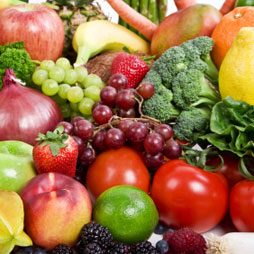 Most of my friends find it hard to juggle school, be in a fraternity and maintain a healthful lifestyle . With the support of The Berman Group, I've been able to lose 60 pounds and keep it off.
John, Age 20


January 23, 2012 | Leave a Comment
With the Super Bowl around the corner you may be worried about making unhealthy choices. No need to fret you can have your football party without sabotaging your new healthful lifestyle.
Here are some recipes I came across when planning my Super Bowl party. Try these healthy alternatives to my big game favorites!
Guacamole
Ingredients:
3 ripe large avocados (or 4 smaller)
Juice of one lime or lemon
3 tablespoons chopped fresh cilantro
1 large tomato chopped
1/4 chopped white onion (or more if you like onion)
1 Jalapeño pepper, seeded and chopped. (Optional)
Directions:
1. Cut avocados length wise, and scoop out inside with a spoon, removing the pit. Mash avocados in a small bowl, but leave them a little chunky.
2. Stir in rest of ingredients.
3. Serve immediately. If you need to wait before serving, leave one of the avocado pits in the guacamole, and cover tightly.
Serve with baked corn tortilla chips. This guacamole is great to spread on top of grilled chicken, or put into a corn tortilla with grilled chicken, black beans, and a bit of low fat sour cream.
                                                                                                                                 Recipe provided by healthy-diet-mom.com
Boneless Buffalo Wings
non-stick cooking spray
2 tablespoons whole-wheat flour or all-purpose flour
1/4 teaspoon salt-free seasoned pepper blend
1 pound boneless, skinless chicken breasts, all visible fat discarded
1/4 cup fat-free or low-fat buttermilk
1 teaspoon red hot pepper sauce
1 cup crushed cornflake cereal
1/4 cup barbecue sauce
1 tablespoon cider vinegar
1 tablespoon honey
PREPARATION:
Preheat the oven to 350 degrees F. Lightly spray a baking sheet with vegetable oil spray.
In a large airtight plastic bag, stir together the flour and seasoned pepper blend. Cut the chicken into 28 strips. Add to the flour mixture. Seal the bag and shake to coat.
Add the buttermilk and hot pepper sauce. Reseal the bag and shake gently to coat.
Put the cornflake crumbs in a shallow bowl. Add the chicken, turning gently to coat. Arrange the chicken in a single layer on the baking sheet. Lightly spray the chicken with vegetable oil spray.
Bake, uncovered, for about 25 minutes, or until the chicken is no longer pink in the center and the coating is crispy.
 In a medium bowl stir together the barbecue sauce, vinegar, and honey.
Add the chicken to the sauce, stirring gently to coat, or serve the sauce on the side.
                                                                                                                                                 Recipe provided by cdkitchen.com
Homemade Tomato Salsa
4 cups diced tomatoes, (5-6 medium)
3/4 cup finely diced red onion, (about 1 small)
1/4 cup red wine vinegar
1-2 jalapenos, seeded and minced
1/2 cup chopped fresh cilantro
1/2 teaspoon salt
Pinch of cayenne pepper, or more to taste
Preparation
Combine tomatoes, onion, vinegar, jalapeno, cilantro, salt and cayenne in a medium bowl. Refrigerate until ready to serve.
 Recipe provided by eatingwell.com
Other healthier snack options:
Choose a hearty vegetable or turkey chili instead of a taco dip
Vegetable platter with a low fat version of your favorite dressing
Quesadillas and English Muffin Pizzas with low- fat cheese and color it up with some veggies
January 10, 2012 | Leave a Comment
Being an athlete of any kind requires modifications in one's diet.  An increase in total calories or changes in food choices are essential to ensure successful performance. Developing a habit of proper eating can support your overall training, performance and health goals.
Having the proper nutrition can help with the onset of fatigue and aid in your recovery from a workout.
Eating before Exercise-
Eating the proper foods before physical activity can give you the energy and strength you need to finish strong.
You should eat a larger meal 3- 4 hours before exercise. This meal should be higher in carbohydrates, adequate in protein, and moderate in fat and fiber.  When time gets closer to the activity have a small snack, such as fruit.
Here are some examples of meals and snacks to consume pre exercise-
3–4 Hours Before Exercise
• Peanut butter & honey on toast + instant breakfast drink
• Fruit and yogurt smoothie + low-fat granola
• Oatmeal with brown sugar and almonds + skim milk + banana
• Low-fat cottage cheese + apple butter + crackers + fresh grapes
• Lean hamburger on bun with lettuce & tomato + side salad +
   yogurt-fruit parfait
• Turkey and Swiss sandwich + fruit + sports drink
• Low-fat tuna melt sandwich + fruit cup + fat-free yogurt
30–60 Minutes Before Exercise
• Sports drink or water
• Sports gel, sport beans or gummies, sports bar
• Piece of fruit or jam sandwich
Eating during exercise-
Some intense activities require you to refuel during your activity, in this case consuming foods that are easily digestible and rich in carbohydrates can help maintain your energy levels.
Sports drinks and gels are a great option that contains a lot of carbohydrates and electrolytes to give you that boost!
Eating after Exercise-
After rigorous physical activity, your body may be lacking energy and nutrients it needs to recover. It is important to replace carbohydrates, sodium and potassium that are lost during exercise. Protein may also be needed to aid in muscle repair.
After a hard workout or sporting event, be sure to have a nutrient-rich snack or meal within 15 minutes to an hour.
Here are some examples of post workout snacks:
Smoothie made with yogurt and frozen berries , Sports drink + a sports bar, Graham crackers with peanut butter+ low-fat milk and a banana
January 10, 2012 | Leave a Comment
Clean eating is becoming increasingly popular these days, buzz words about it have been popping up all over. What is "clean eating"? It is about choosing foods in their natural whole state  devoid of chemicals, additives, processing and refined ingredients The health benefits to this way of eating has positive  outcomes including weight maintenance, blood sugar control, and more desirable blood pressure and cholesterol levels. It's easy to see why eating whole, unprocessed foods in their natural state you are benefiting from whole grains, vegetables, fruits, lean meats rich in vitamins, minerals, fiber and phytonutrients.
Steps to eating clean:
 Eat whole foods, in their natural state including meat, fish, poultry,dairy, fruit, grains, nuts, seeds, legumes
Choose healthful carbohydrates such as fruit, vegetables, whole grains and legumes.
Choose lean protein sources lean meats, fish, chicken, eggs and low fat dairy
Focus on healthy fats like monounsaturated fats ie olive oil, canola oil, avocado, nuts
Limit Saturated fats found in fatty animal products and trans fats in fried foods and bakery products
Moderation and frequent small meals
Drink 8 to 10 glasses of water
Increase Activity
January 3, 2012 | Leave a Comment
I am often asked should I buy organic? A food is labeled organic when it has been produced in accordance with the U.S. Organic Foods Production Act. The label "organic" illustrates the methods used to produce a food product. A food is labeled "organic" if it has been grown and/or processed without the use of chemical herbicides, pesticides and fertilizers and must not have been treated with hormones, antibiotics, coloring agents, preservatives or artificial colors , or artificial ingredients of any kind. Organic foods tend to be more pricey and can deter consumers from purchasing them. Not all foods have to be organic, It is a good idea to incorporate some organic foods into your families diet. Especially vegetables and fruits which are more likely to absorb pesticides and toxins.
"The Dirty Dozen" below Contains the most pesticide residues.
• Apple
• Celery
• Strawberries
• Peaches
• Spinach
• nectarines ( imported)
• Grapes ( imported)
• Sweet Bell Peppers
• Potatoes
• Blueberries
• Lettuce
• Kale/ collard greens
What foods are safe to buy non-organic?
• Onions
• Sweet corn
• Pineapples
• Avocado
• Asparagus
• Sweet peas
• Mangoes
• Eggplant
• Cantaloupe ( domestic)
• Kiwi
• Cabbage
• Watermelon
• Sweet Potatoes
• Mushrooms
• Grapefruit
Always wash vegetables and fruits even if they are organic!
Share
Recent Posts
Categories
Archives
Join Our Mailing List