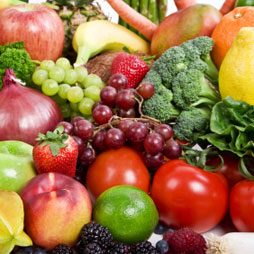 By learning what nutrients are needed for a healthy pregnancy, I had a successful birth, a beautiful baby and I am back to my pre-pregnancy weight!
Mary,32


December 2, 2011 | Leave a Comment
Holidays translate to a time of joy, family, friends and delicious food.  It can be a challenging time of year to make mindful choices but it can be done.   I came across these fun recipes that  offer a healthy twist to some holiday favorites. Enjoy!
Sweet Potato and Lentil Stuffing
1/2 cup wild rice, rinsed
1 cup water
1 large leek, finely chopped
2 garlic cloves, crushed
12 button mushrooms, roughly chopped
1/2 cup brown lentils
1/2 cup red lentils
2 cups vegetable stock
3 medium sweet potatoes, diced
2 teaspoons ground cumin
2 teaspoons ground cilantro (or ground parsley)
4 tablespoons fresh parsley, finely chopped
2 tablespoons olive oil
Preheat oven to 400 degrees F.
In a medium saucepan, add the brown and red lentils and stock and bring to a boil. Reduce heat and simmer for 20-25 minutes, until lentils are cooked through, stirring occasionally. Add sweet potatoes in the last 5 minutes.
In another medium saucepan, add wild rice and 1 cup water and bring to a boil. Reduce heat and simmer 30-35 minutes, until rice is fork tender.
Heat oil in a saucepan over medium heat, and add leeks. Cook for 2-3 minutes until soft. Add garlic, mushrooms, cumin, and ground cilantro. Cook for 1 minute or until fragrant.
In a large bowl, combine rice, lentils, and saucepan mixture. Mix well.
Place in a baking pan and coat with oil spray. Bake at 400 degrees F for 30-40 minutes until lightly browned.
Yield: 6 servings
Per serving: 170 calories, 5 grams fat, 5 grams protein, 26 grams carbohydrate. Calories from fat: 26%
Provided by WebMD.com
 Pear, Mushroom and Pomegranate Stuffing
INGREDIENTS
1 tablespoon olive oil
10 oz cremini mushrooms
2 large celery stalks, chopped
8 large sage leaves
2 tablespoons fresh thyme, chopped
1 demi whole-wheat baguette (about 8 oz), cut into 1-inch cubes
1 large Anjou or Bartlett pear, cored and cubed
1 cup pitted prunes, chopped
1 cup low-sodium chicken broth
1 cup pomegranate juice
PREPARATION
Heat oven to 350°. Heat oil in a large skillet over high heat. Cook mushrooms, celery, sage and thyme, stirring often, until mushrooms and celery soften, 6 to 8 minutes; season with salt and pepper. Transfer to a bowl; add baguette cubes, pear, prunes, broth and juice. Mix well and let rest until bread absorbs liquid. Transfer to an 8″ x 8″ baking dish; cover with foil. Bake 40 minutes, remove foil and bake until stuffing puffs up, about 5 minutes.
135 calories per serving, 2 g fat (0 g saturated), 26 g carbs, 3 g fiber, 5 g protein
Provided by epicurious.com
 Cauliflower "Mashed Potatoes"
Ingredients
1 head cauliflower
1 clove garlic
1 leek, white only, split in 4 pieces
1 tablespoon soft-tub margarine, non hydrogenated
Pepper to taste
Directions
Break cauliflower into small pieces. In a good-sized saucepan, steam cauliflower, garlic and leeks in water until completely tender, about 20 to 30 minutes. While cauliflower is hot, puree until the vegetables resemble mashed potatoes. (Use a food processor, of if you prefer a smoother texture, use a blender. Process only a small portion at a time, holding the blender lid on firmly with a tea towel.) Add a little hot water if vegetables seem dry. Stir in margarine and pepper to taste.
Provided by eatingwell.com
Pumpkin Pie with Golden Raisins
Ingredients:
4 egg whites, lightly beaten
2 cups canned or cooked pumpkin
½ cup honey
1-1/2 cups evaporated skim milk
½ cup golden raisins
1 teaspoon ground cinnamon
1 teaspoon ground ginger
½ teaspoon ground cloves
1 (9-inch) reduced-fat, whole wheat pie shell
Instructions:
Preheat oven to 425 degrees. In a large bowl, thoroughly blend with an electric mixer all the ingredients and pour into the pie shell. Bake for about 20 minutes or until an inserted toothpick comes out clean. This recipe makes eight servings of pie.
Here's the nutritional breakdown for a 1/8 slice of this delicious dessert:
Calories: 270
Fat: 3 grams
Cholesterol: 4 mg
Sodium: 249 mg
Carbohydrates: 53 grams
Protein: 9 grams
This recipe is courtesy of Roniece Weaver and Fabiola Demps Gaines, registered dieticians and authors of "The New Soul Food Cookbook for People with Diabetes.
 Skillet Granola Apple Crisp
 By toasting a bit of prepared granola with butter, we were able to keep this dish light and healthy while still providing a delicious crunchy topping to sweet spiced apples.
Ingredients
3 tablespoons unsalted butter
1 1/2 cups store-bought oat granola, (recommended: Bear Naked Maple Pecan)
2 tablespoons all-purpose flour
1 tablespoon sugar, plus 1/4 cup
5 crisp apples, such as Fuji or Gala (about 2 1/2 pounds), peeled, cored and cut into 1/2-inch pieces
1/2 teaspoon pumpkin pie spice
1 tablespoon fresh lemon juice
1. Preheat the oven to 350 degrees F.
2. Melt the butter in a medium nonreactive and oven safe skillet over medium heat. Add the granola, 1 tablespoon of the flour and 1 tablespoon sugar and toss until the sugar is dissolved and the granola is well-coated. Transfer to a bowl; set aside. (Reserve the skillet.)
3. Pour the apples into the skillet; toss with the pumpkin pie spice, lemon juice and remaining 1/4 cup sugar. Cook, stirring occasionally, until the apples are juicy and slightly softened, 5 to 7 minutes. Stir in the remaining 1 tablespoon flour. Scatter the reserved granola mixture evenly over the top and transfer the skillet to the oven. Bake until the crisp is bubbling and the apples are tender, about 35 to 40 minutes. Serve warm.
Provided by the foodnetwork.com
Share
Recent Posts
Categories
Archives
Join Our Mailing List