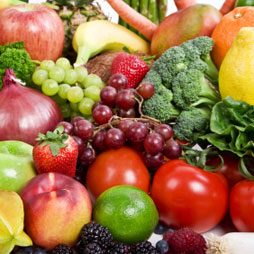 Gastroparesis doesn't have to rule my life any longer! I know what to eat, what to avoid and I feel great!!!
Tara, 28


October 6, 2011 | Leave a Comment
Research has shown that diets rich in fruits and vegetables may reduce the risk of certain cancers, lower cholesterol, aid in the control of diabetes and contribute to lowering the risk of several chronic diseases. Therefore getting your fruits and vegetables in is vital to good health. Choosing an array of colors is necessary to ensure variety and a mixture of nutrients…. go for dark green, yellow, orange  red, blue, white and purple.
What is a serving size? For an adult a serving size is 1 cup of a raw vegetable, 1 small to  medium sized fruit, 4 ounces of 100%  fruit or vegetable juice,1/4 cup dried fruit,1/2 cup fresh or frozen vegetables cooked. For children under the age of ten portions are considered half that of an adult. For babies and toddlers the portion size is 1 tablespoon per food per year of child.
Select  different colors throughout the day…..
Green (decreased risk of certain cancers, promote strong bones and teeth,maintain vision health): broccoli, kiwi, avocado, leafy greens, green peppers, zucchini, artichokes.
Yellow/ Orange (heart health, boost immune system, vision health, decrease risk of certain cancers): sweet potatoes, papaya, carrots, pumpkin, mango, apricot.
Blue/ Purple( promote healthy urinary tract, reduce risk of certain cancers, improve mental clarity , promote healthful aging) :  figs, blackberries, plums, purple cabbage, eggplant, purple potatoes, blueberries.
White ( heart health, decrease risk of certain cancers): white nectarines, white peaches, cauliflower, garlic, onions, turnips.
Red ( memory function, heart health, decrease risk of certain cancers, urinary tract health) : beets , rhubarb, tomatoes, pomegranates, cranberries.
So you ask how do I increase my family's consumption? First make fruits and vegetables easily accessible  for all to grab. Place washed fruit in bowls on tables, veggies in refrigerator. Present vegetables in different ways with varying textures. Raw veggies dipped in hummus or light dressing, sautéed, grilled, roasted and broiled versions. Add vegetables to sauces, stews, soups, casseroles, omelets, quesadillas, and pizza. Add fruit to yogurt, cereal, cottage cheese, pancakes, oatmeal. Serve 1-2 veggies with your dinner meal. Continue to expose children to veggies they may have rejected, it can take several attempts and a variation of cooking styles. Don't give up!
Green Beans with Chili Garlic Sauce
Recipe courtesy of Harvard University Dining Services
Serves 4
¾ pound green beans, trimmed
2 teaspoons olive oil
¼ small red onion, thinly sliced (about ½ cup)
½ medium red bell pepper, thinly sliced (about ½ cup)
¼ pound shitake mushrooms, sliced
1 clove garlic, minced
½ teaspoon red chili garlic sauce
Bring a large pot of water to a boil over high heat.
Add the green beans to the water. Cook the beans for about 4 minutes, or until they are bright green and still slightly crisp. Meanwhile, prepare a large bowl of ice water.
Drain the green beans in colander and quickly place them in the ice water to stop the cooking process. Drain the beans again in a colander before proceeding to the next step.
Heat the olive oil in a large skillet over high heat. Add the onion, pepper, and mushrooms, and cook for about 3 minutes, stirring constantly, or until the vegetables begin to brown slightly.
Add the green beans, garlic, salt, and pepper to the skillet. Cook for 30 seconds, or until the garlic is fragrant.
Add the red chili garlic sauce to the skillet and stir to coat the vegetables well. Remove from heat and serve.
Nutritional information per serving:
Calories: 80⁄ Protein: 3 g⁄ Carbohydrate: 15 g⁄ Fiber: 4 g⁄ Sodium: 10 mg
Saturated fat: 0 g⁄ Polyunsaturated fat: 0 g⁄ Monounsaturated fat: 2 g
Trans fat: 0 g⁄ Cholesterol: 0 mg
October 3, 2011 | Leave a Comment
Most work days are  much longer than 8 hours, many  people are working additional hours at home on their laptops blackberries etc. With hectic schedules how do you  ensure that you do not skip meals, make poor decisions, over eat and lack the energy needed to keep up.
1. Make a solid grocery list Plan your meals and snacks for the week shop over the  weekend at your leisure on a full stomach.  Avoid the center aisles of the store which contain processed foods and work the perimeter of the store which has produce, low fat dairy and lean meat/poultry.
2.Cook on Sunday Roast a chicken, whip together a turkey meat sauce, make a big stew or pot of chili – grill or steam some veggies.  Wash and prep your salad for the week, place in zip lock bags. This prep will ensure you are all set  to pack  a daily cooler bag for work.
3.Recreate your leftovers  Use left over chicken or other protein in  the lunches you pack . Toss protein  in a whole wheat pita with lettuce, tomato, your favorite seasonings and a slice of avocado. Place it  in a tortilla add some salsa – you have a yummy burrito. Toss it into a salad along with grilled or roasted veggies. Have fun recreating meals, the possibilities are endless.
4. Pack Your snacks Measure nuts,dried fruit, whole wheat crackers, baked chips,sliced veggies, low fat cheese and yogurt.
5. Be Aware of beverage calories The average American consumes 400 calories a day in liquid form! This includes sports drinks,energy drinks,flavored ice teas, sodas and juice. Water is best, jazz it up with a lemon.
6. Don't go shopping for the latest "popular"diet With all the new fad diets circulating around it does get confusing at times. Ask yourself Is it healthy?Does it involve whole foods?Will it fit into your lifestyle? Is it too restrictive?
7. Avoid going longer than 4 hrs without eating, honor your hunger. Too many hours without eating will lead to extreme hunger and over eating is typically the end result.
Share
Recent Posts
Categories
Archives
Join Our Mailing List